The meeting of the Presidents of Azerbaijan and Armenia took place in Geneva. The meeting was devoted to the need to resolve the protracted Karabakh conflict. The fact that Ilham Aliyev and Serzh Sarksyan met with each other and began a dialogue is already encouraging.
The meeting of the presidents of the two conflicting states was held on the initiative of the co-chairs of the so-called Minsk Group. Negotiations were held at the residence of the Permanent Representative of Switzerland at the Geneva headquarters of the United Nations. The meeting was attended by representatives of Russia, the United States and France.
From the press service of the President of Armenia:
The meeting is held with the participation of Foreign Ministers Edward Nalbandyan and Elmar Mamedyarov, as well as the OSCE Minsk Group Co-Chairs Igor Popov (Russia), Andrew Schaefer (USA), Stephan Visconti (France) and Personal Representative of the OSCE Chairman-in-Office Andrzej Kasprzyk.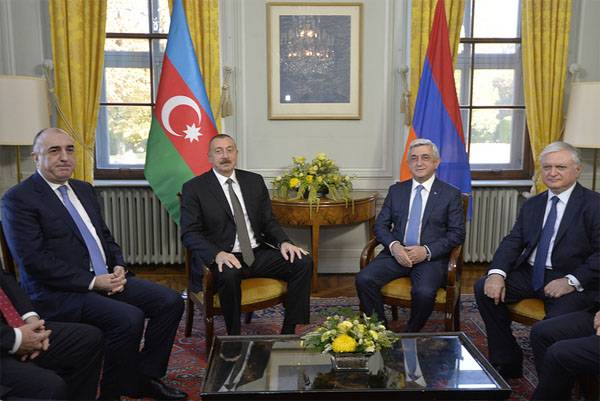 Following the talks, it was noted that the conversation was held in a constructive way. Representatives of the Minsk Group made it clear that they were satisfied with the ongoing direct negotiations between the leaders of the republics.
The previous meeting of this level was held last summer in St. Petersburg. The result of that meeting was an actual cease-fire on the contact line in Nagorno-Karabakh. At the meeting in Geneva, the parties agreed to deepen the process to achieve a comprehensive peace in the region.