The Rosoboronexport company (the main special exporter of Russian armaments, part of Rostec) refused to participate in the tenders of the Indian Ministry of the Interior for the purchase of more than 20 thousand machine guns of the 7,62 x39 caliber. This was reported on Monday by a source in the system of military-technical cooperation.
Tender documentation for 99% is "sharpened" by specialists from the Indian Ministry of the Interior for obsolete Kalashnikov assault rifles, produced in Bulgaria under an expired Soviet license. Requirements of the Ministry of Internal Affairs of India for units of more than 20000 units purchased for the national police and border service initially do not allow Russian companies to submit their commercial proposals.
- Said the source agency.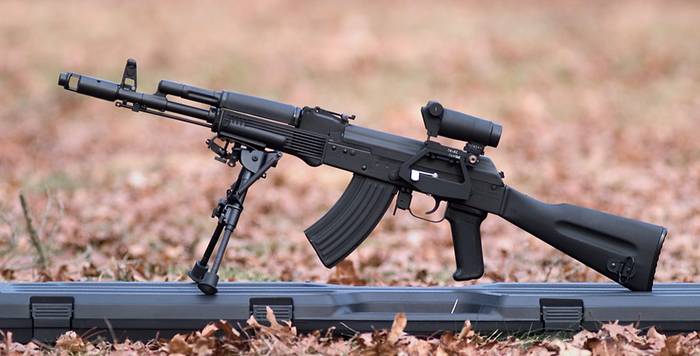 According to him, among the critical procurement conditions, the Indian side called the presence of an iron shop, while in Russia they were long ago abandoned in favor of more reliable plastic, devices for disassembling and assembling the trigger mechanism (USM), although in the new Russian AK hundredth The series of the USM design has been improved and no longer requires such a device as part of the belonging to the machine, as well as steel folding butts, while modern ones are made from composite materials.
A source at Rosoboronexport confirmed the refusal to participate in tenders of the Indian Ministry of the Interior for the purchase of automatic machines due to the incompatibility of the Russian AK-103 with the conditions of the tenders, but did not comment on the current procurement policy of the Indian Ministry of Interior, citing the incorrectness of such statements.
In turn, the Kalashnikov Concern (part of Rostec) expressed great surprise at the fact that old metal shops are of great importance to buyers in the Indian Ministry of Internal Affairs.
They are less durable and rusting in hot climates. The whole world has long been moving to plastic
- stressed in the concern's press service, noting that they plan to invite relevant Indian journalists and experts to Russia, so that they could see with their own eyes the modern and high-quality
weapon
, which Indian police and border guards could get if the current tender conditions "were more benevolent to the manufacturer of real Kalashnikov assault rifles."
Indians, of course, have the right to choose any weapon for their law enforcement agencies. In turn, the Russian side is fully entitled not to act as a tender statistician, so that Rosoboronexport's refusal to participate in tenders is a logical decision. But if the conditions of the tenders are changed, we are ready to participate in them.
- Said in concern, transmits
TASS