SkyNews reported that the Iraqi troops, who had previously begun their advancement through the neighborhoods of Kirkuk, squeezing the forces of the Kurdish militia, took the city under their complete control. It is stated that the state flag of Iraq is hoisted over the building of the Kirkuk administration. Earlier, the authorities of Iraqi Kurdistan declared that Kirkuk is part of the Kurdish autonomy, which voted for independence from Baghdad in a referendum.
It is noted that the Iraqi troops and representatives of the national police, while advancing in Kirkuk, practically did not meet with serious resistance from the so-called Peshmerga units (Kurdish armed formations).
At the moment, the fate of the head of Kirkuk Nadjim al-Din Karim, who actually stood for autonomy, is being clarified. According to some reports, he could leave Kirkuk and move to the administrative center of Iraqi Kurdistan - Erbil. Officially, these data are not confirmed.
Recall that the residents of Kirkuk earlier took part in the referendum, despite the fact that Kirkuk is not de jure included in the Kurdish autonomy. The Iraqi Prime Minister ordered troops to be brought to Kirkuk, which eventually happened.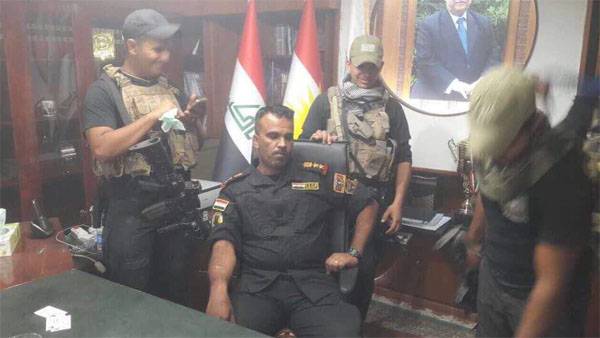 Photos are published in which Iraqi soldiers can be seen in the office of the head of Kirkuk. About the reaction in Erbil is not reported.
Attention is drawn to the statement of the Peshmerga command, in which it is alleged that units of the Iranian special forces under the command of General Qasim Suleymani entered the city together with the Iraqi army.