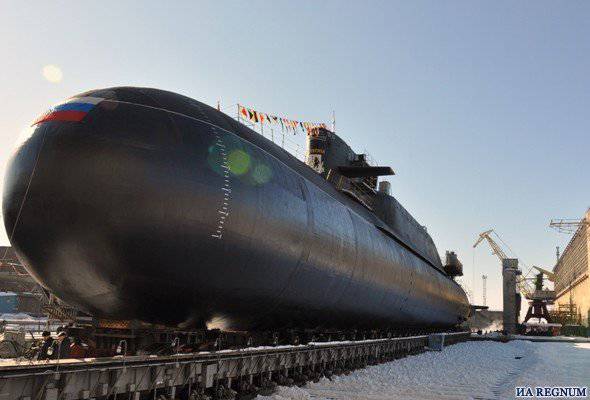 RIA News
. The Severodvinsk Ship Repair Center "Zvezdochka", part of the United Shipbuilding Corporation, removed the strategic submarine Verkhoturye from the boathouse after repair, reports RIA correspondent on Saturday
News
.
The strategic submarine missile cruiser Verkhoturye, the lead ship of the 667BDRM project, was laid on the Sevmash slipway in February 1981. In December 1984, the naval flag was raised on the missile carrier, and the submarine became part of the Navy. In August 2010, after the turnaround time, the missile carrier was transferred to Severodvinsk to restore technical readiness and extend service life at the shipyard of CS Zvezdochka.
"This type of repair does not imply the unloading of all equipment and its testing, it is a partial repair, due to the fact that the service life is extended. After this repair, we give the service life of the 3,5 boat of the year. We will extend the next boat of this project for five years," Director General of the Zvezdochka Ship Repair Center Vladimir Nikitin.
According to him, by the time of withdrawal from the slipway on the ship, work was done to repair the hull, outboard systems, survivability systems, mechanisms and equipment of the steam generating plant, and other shipboard systems. The final completion of the work will be carried out afloat at the wall of the outbuilding embankment.
"Repair of the Verkhoturie cruiser is the beginning of a cycle of second factory repairs of the nuclear submarine of the 667BDRM project. By doing this work, Zvezdochka provides long service lives of strategic missile carriers, which today are the main element of the naval component of nuclear deterrence forces," added Nikitin.
In June, the 2012 of the year the Zvezdochka will take to restore technical readiness the next submarine of the 667BDRM project - the nuclear rocket carrier Ekaterinburg.
Strategic missile submarines of project 667BDRM - NATO classification - "Delta-IV" - are the basis of the Russian naval nuclear deterrence forces. Their construction began in 1981 at Sevmash. In total, from 1984 to 1990, the fleet received seven cruisers of this type. Currently composed
fleet
there are six such boats. In the period from 1999 to 2012, the Zvezdochka Ship Repair Center carried out average repairs with modernizations of all the missile carriers of this project.
According to open sources, the submarines of the 667BDRM project have a length of 167 and a width of 12 meters, the displacement is about 12 thousand tons. The maximum depth of the dive is 400 meters, the cruising speed under water is up to 24 nodes, the crew is 140 people. The missile carriers armed 16 intercontinental ballistic missiles "Sinev".