The composition of the Baltic
fleet
the latest raid tug "BUK-2182" of project 04690 was adopted, the press service of the Western Military District
After the successful completion of state tests, the newest roadster tug "BUK-2182" of the 04690 project, built at the Pella enterprise in St. Petersburg, was accepted as part of the auxiliary forces of the Baltic naval base.
- said in a statement
After the ceremony of raising the naval flag the crew of the vessel began to perform tasks for the purpose in Baltiysk.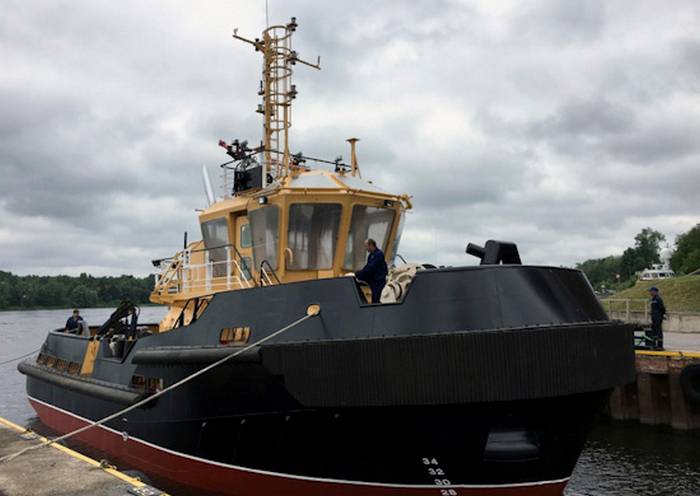 The tug is prepared for performing towing and canting operations at the points of deployment of naval forces, in raids, river and sea areas, as well as for fighting fires and participating in search and rescue operations.
The deck equipment of the tug includes a bow anchor-towing-mooring winch with a pull on the 33 kN circuit and a holding force on the tape brake of the towing cable 294 kN, a tow hook with a nominal pull 137 kN with a quick-release device. The tug also has a 280 kg crane in winch mode on the 5 m boom. To extinguish fires, the vessel is equipped with an external fire extinguishing system with a capacity of up to 100 cubic meters per hour (2 water monitor, water curtain system).
Tug length - 20,4 m, width - 8,5 m, draft - 2,5 m. Independent swimming in small ice ice with a speed of 5 knots - 0,7 m. Floating in a channel behind an icebreaker in solid ice - 0,65 m. Ship speed - 10,5 knots.