Nearly 300 terrorists surrendered to the SDF in Rakka, 15 thousands of PKK fighters went as reinforcements to Iraqi Kurdistan, reports
FAN
with reference to Syrian sources.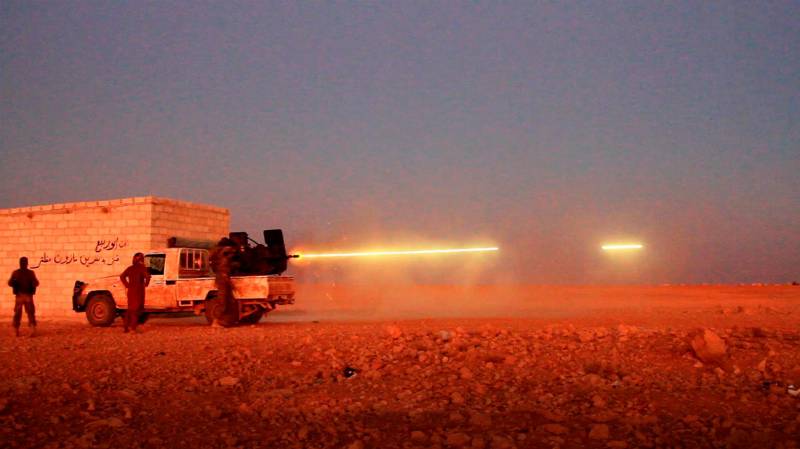 The artillery of the Syrian Arab Army (CAA) continued to fire at the deployment zones of militants of the radical opposition in the Beit Jeann (Damascus) area. In turn, the radicals fired at Bab Sharqi, Al-Shagur and Al-Abbasin during the day. As a result of the shelling, two civilians in the Syrian capital were killed and nine others were injured.
A convoy of vehicles with Turkish soldiers arrived at Sheikh Barakat Mountain (Aleppo Province), which is in close proximity to the Kurdish city of Afrin. The day before, a Turkish reconnaissance drone was shot down over Afrin. In addition, Ankara announced the start of deployment of checkpoints in Aleppo border areas with Idlib province.
Fights between government troops and terrorists of the IG group (banned in the Russian Federation) east of the Euphrates River (Deir ez-Zor province) have been recorded. The Syrian Arab army is advancing in the region under the guise of the RF AU. Russian planes struck a series of strikes against the deployment zones of terrorists in the areas of the settlements of Al-Falkani, Al-Muhasan, and Al-Bulil in the south-east of the province. Later it became known that the Syrian military was able to free Al-Salkhia from the Islamists on the eastern bank of the Euphrates.
The confrontation between the Syrian army and the militants of the radical opposition continued in the administrative center of Dar'a province. The fighting was also recorded in the east of the region.
The Turkish army continued to push forces into Idlib province. In the north of the region, hostilities were recorded between the Turkish army and the Kurdish militias. The SDF conducted artillery shelling of positions of the Turkish army and Ankara-controlled militants near the Atma settlement.
In Raqqa, intense fighting resumed between the Syrian Democratic Forces (SDF) and ISIS terrorists who refused to leave the former unofficial capital of the "Caliphate". In the middle of the day it became known that the fighters of the Kurdish militia had cleared the Al-Mansur area from militants. A Twitter source (@Khaled_qahtan) reported that the SDF militias are actively propagating, urging residents of the liberated neighborhoods to take off their black clothes. As a result, the 275 IG terrorists surrendered to the Syrian Democratic Forces. About 3 thousand of civilians managed to withdraw from the combat zone.
The Russian Aerospace Forces continued to bomb the fortifications of IG terrorists in the province of Hama, and also to help repel radical attacks on the position of the Syrian Arab army. Strikes are carried out in the area of ​​the settlement of Abu Dali.
The command of the Kurdistan Workers' Party (PKK) has declared its readiness to help Peshmerga fighters in battles against the Iraqi government army for the independence of Kurdistan. One of the sources posted a video on Instagram, in which reinforcements from more than 15-ti thousand PKK fighters are sent to Iraq.