Chief of the General Staff - Commander-in-Chief of the Armed Forces of Ukraine General of the Army Viktor Muzhenko arrived at the headquarters of the Lugansk Operational-Tactical Group (OTG), whose command systematically ignores his orders, said the spokesman for the People's Militia of the LPR, Colonel Andrei Marochko, reports
LuganskInformCenter
According to the information we have, the Chief of the General Staff - Commander-in-Chief of the Armed Forces of Ukraine, Army General Viktor Muzhenko arrived in the headquarters of the operational-tactical group "Lugansk" on a working visit.
- noted Marochko.
Presumably, the reason for the visit is the complete disregard for orders, instructions and directives received from the General Staff by the grouping command.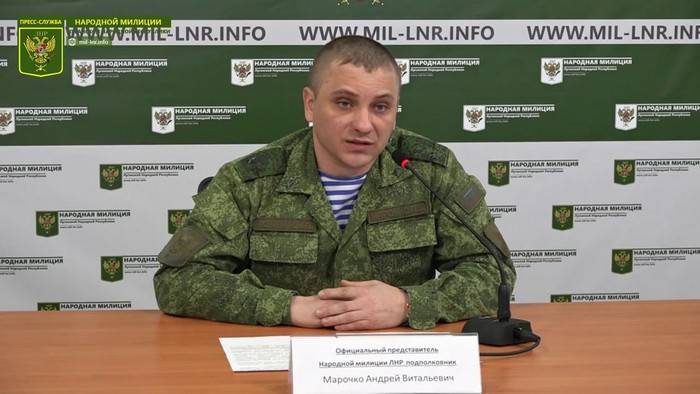 The lieutenant colonel drowned out that, together with Muzhenko, the head of the communications forces of the Armed Forces of Ukraine, the head of the Main Communications and Information Systems Department of the General Staff of the Armed Forces of Ukraine, Major General Ostapchuk, arrived.
The People's Police repeatedly noted that the moral and mental state of the Kiev security officials was deteriorating, they continued to maraud and organize "drunken clashes", there were frequent cases of non-statutory relations that lead to desertion and suicide among the Armed Forces of Ukraine military personnel.
Also today it became known that two servicemen of the Ukrainian Armed Forces died during badly organized fire training sessions.
Confirmed the death of two soldiers of the 14-th separate mechanized brigade in the course of conducting fire training in the area of ​​the settlement of Makarov
- reported Marochko
As it became known, the death of military personnel occurred due to poor preparation and organization of the occupation by the officers
In addition, the representative of the defense department of the LPR noted that the Ukrainian Armed Forces continue to store ammunition in places not intended for this and to equip ammunition depots in populated areas or on their outskirts.
In the area of ​​responsibility of the 14 brigade, in the warehouses of rocket and artillery weapons in settlements Novoaydar, Alekseyevka, Shiroky for the storage of ammunition use agricultural buildings
- he said.
These buildings and the surrounding area do not meet safety requirements, which can lead to another tragedy and new civilian casualties.