Romania is replacing its armored vehicles, which remained from the times of the USSR to modern European ones. According to the portal
defensenews.com
, the Ministry of Economic Affairs of Romania and the General Dynamics European Land Systems Corporation signed a memorandum of understanding, within the framework of which Piranha V. will be assembled in Bucharest.
According to the document, the capacities of the Bucharest Mechanical Plant, which is part of the national defense company Romarm, will be upgraded, which will allow the assembly of new equipment to begin. In particular, in Romania it is planned to launch production of the newest modification of the Piranha V. armored personnel carrier.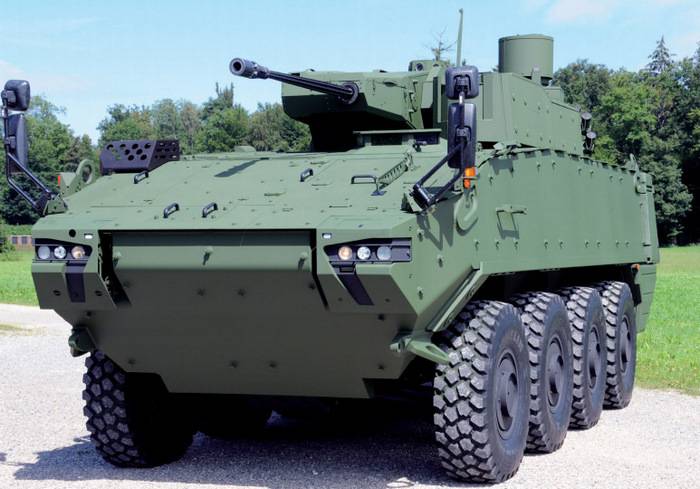 Armored personnel carrier Piranha V.
The Romanian Ministry of Defense plans to assemble the 227 Pirani, which should be replaced by Soviet armored personnel carriers that are in service with the Romanian army. At the same time, the Ministry of Economy indicates that the production of new armored vehicles will not only increase the combat capability of the armed forces, but also significantly upgrade the country's military-industrial complex.
Piranha is a family of multipurpose wheeled armored vehicles developed by the Swiss company Mowag, which has been part of General Dynamics Corporation since 2010. Piranha is produced in 4 × 4, 6 × 6, 8 × 8 and 10 × 10 versions and has the following options: armored personnel carrier, infantry fighting vehicle, military reconnaissance vehicle, RHBZ reconnaissance vehicle, command headquarters vehicle, armored repair unit, evacuation unit, armored repair unit, evacuation unit, reconnaissance vehicle RHBZ, command and command vehicle, armored repair unit a machine. Armored vehicles Piranha has been in five generations and are in service with armies of more than 20 states, reports
"Warspot"