There were already a lot of articles on the legalization of the short-barrels on the site, but, as I noticed, the dispute between the supporters and opponents of this action in the vast majority of cases is slipping into a personalization. As they say, when the arguments end, they begin to clarify the nationality of the opponent. The other day we got hooked in languages ​​with one of my comrades just on this topic. Two hours! For two hours, two supporters of legalization, passing to the mat and proceeding to some substance, in different words spoke almost of the same thing. And I imagined the situation: supporters of legalization come to the deputy, take it for me ... the textiles and in a penetrating tone inform him that "the Law on
weapons
»It is necessary to make changes legalizing the short barrel. He, unable to resist pressure, says: "Not a question! I will bring the bill! What do you want to see in it? " And supporters, with obscenities and scuffle, begin to clarify what exactly they want to see in the law. After which the deputy declares: "No, guys, you can't agree among themselves here, but if you also give weapons ...". He told a friend, neighing. But the question remained.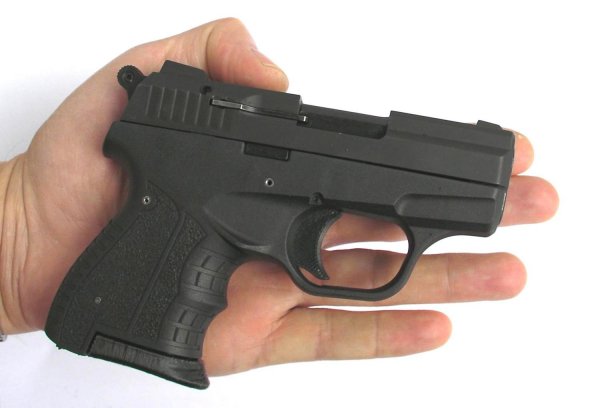 In fact, plugging is not in a weapon, as such, it is just a means. The issue in the legal provision of the concept of "self-defense". Under the current legislation, neither the pistol nor the machine gun will help the law-abiding citizen. Is that a grenade and then in the version "I will take you with me." The court, when making a decision, proceeds from the provisions of the law, and not from considerations of justice and fairness. In fact, it is correct, because the very concepts of honesty and justice, by and large, are subjective and vary depending on the outlook of each particular individual. For example: a man goes home at night, towards the company. Banal question: "Is there a smoke?". The man gets the barrel and ... It turns out the defendants. For, from the point of view of the law, he did not use a weapon at all. There were no threats to him! And do not care that this company is all "on the area" know as scumbags and a criminal element. In this particular case, no one threatened him. Simply, though not too politely, they asked to smoke.
And now another option: the situation is the same - a night, a passer-by, clearly an intoxicated company, a question. But there is a nuance: the company simply keeps the path from point A to point B, the messengers were detached to the nearest round-the-clock and people, without any ulterior motive, waiting for the messengers, asked for a cigarette and got a bullet. In this case, the passerby finds himself rightly in the dock. And now the question: how can a passerby distinguish the first company from the second? Wait until it starts to knead the crowd in 5-7 digging? (A smaller number of jackals, as a rule, does not walk).
So, first of all, it is necessary to give a clear, concrete definition that does not allow for different interpretations to the very concept: "self-defense" (there is no limit to self-defense, in my deepest conviction, and cannot be). And does this concept include property protection? That is: is it possible to shoot at someone who is trying to steal or in some way damage property belonging to a person? And some quite seriously say that it's impossible to shoot at a body that, for example, is trying to steal the wheels from the car, because the property is a penny. As if from this it ceases to be property.
And what about such deeply subjective notions as honor and dignity? We, for the most part, are far from the nobles, who in past times solved this question in duels, but do we really have no such concepts?
In general, as I, in general, I see the law "On Arms". To obtain permission for a short-haul, a citizen of the Russian Federation must undergo a medical examination, legal (that is, he must clearly know when and under what circumstances he has the right to open fire) and fire training, that is, be able to use a weapon. And then there are enough of these buggers, who believe that the mere presence of a pistol in a holster on a belt or armpit makes them ganfeiters. In addition, it is obligatory to visit the shooting range or training ground at least once a week (without constant training, the presence of the trunk is more likely a risk factor than vice versa). The absence of the owner of the weapon in the dash more than three times in a row without a valid reason (and only a sick leave can be such) is already a reason for revoking the license.
What should, in my opinion, be part of the concept of "self-defense"? This is protection, including with the help of weapons, human life, health and property. If the situation allows interpretation, that is, a person does not twirl with fists, a knife, an ax, a barrel, promising to kill, tear, trample, etc., that is, there seems to be no immediate danger, but the person believes that from another person or group such if danger emanates, he can unbutton a holster, put a hand on a weapon and warn a person or a group of such that he will shoot at a certain distance from him. Smart and sane will move away, and fools ... There they are and the road.
Now for the property. There are enough cases when property is arrogantly and openly, knowing full well that the owner will not do anything to them. As threats, both verbal, and action they do not allow themselves. Country plots, for example. Someone squirms all summer, growing potatoes, beets, etc., arrives, and 3-5 people dig up his crop in a brazen man, and even you mock "you don't get poor." Climb on country houses, almost without hiding. Even if there is a watchman, what can he do? So any, I emphasize, any attempt on another's property, regardless of cost, a person should have the right to stop, including with the help of weapons. I shouted "stop!" And if the body did not stop or tried to escape, you can shoot.
Here, of course, situations are possible when, after shouting, the owner, in order not to bother calling the police and others, will simply shoot a person who seems to have stopped the assault. But, on the one hand, are there many people who are ready to take a sin for a rag or potato, when there is an opportunity to call the police and shove the thief with them, and on the other, who did this person call here? The criminal level will fall at times, if not an order of magnitude.
Now, on such concepts as honor and dignity. Now it is customary to investigate cases of insulting honor and dignity in court. For several months or even years. Long, dreary and not everyone can afford. If you make changes to the legislation ... Here, on the one hand, it is more complicated, but on the other, easier. Someone called someone offensive or obscene word. If this happened without witnesses, then an attempt to kill or damage the health should definitely qualify as an intentional aggravated crime. If, at the witnesses, this someone decided that someone had offensively offended him, then in the presence of a police officer (preferably from the press service, otherwise their ranks and salaries are high and their duties are not enough) after questioning the witnesses to a duel. Moreover, the callee may well refuse from a duel, paying a symbolic fine, say, an insulted one hundred rubles. The amount is small and use the challenge to a duel as a means of enrichment will not work. Because if there are too many calls, say, more than one per month, you can ask yourself, is it necessary for such a touchy weapon?
Something like that, in general. Or am I too radical?