The UN considered the so-called "evidence" of alleged use of sarin by the troops of Bashar al-Assad against the population of Khan-Sheikhun. As representatives of the White Helmets organization reported, as is well known, closely related to the Dzhebhat an-Nusra terrorist group (* banned in the Russian Federation), in April of the current year, a SAR air force plane allegedly dropped a bomb filled with sarin on Khan-Sheikhun. After that, the UN Security Council was presented with photographs in which, allegedly, "Khan-Sheikhun's children poisoned by sarin".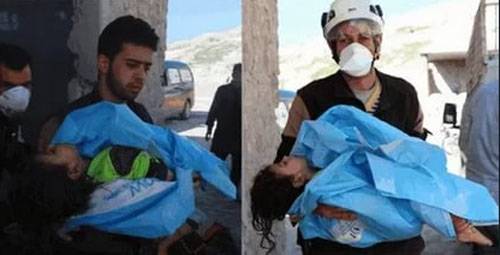 The Russian delegation of the Foreign Ministry in the United Nations called all these statements a frank fraud. At the same time, the Russian side operated with professional data on how the victims of the use of sarin actually look like.
Mikhail Ulyanov, the head of the Foreign Ministry's departmental department, showed those present to the audience those photos that the United States Permanent Representative to the UN, Nikki Haley, had previously shown to the organization. According to Mikhail Ulyanov, these photos previously served as a pretext for the fact that US President Donald Trump ordered an missile attack on the Syrian airbase Al-Shairat.
Interfax
cites a statement by a Russian diplomat:
Look closely, the children supposedly affected by sarin have their pupils widened to the limit, whereas in the case of sarin they should have narrowed to the point size. The children depicted in these photos, apparently, were exposed to psychotropic substances, in this case, the pupils dilate. Those who posted these photos on the Internet and thus provoked, according to the press, the decision to launch a rocket attack, clearly had little idea about the consequences of using sarin.
The Russian representative noted the need for a professional approach to evaluating published personnel and called on the international community to find out who pumped Syrian children with drugs, presenting the result as the consequences of a sarinoff attack.
Further, Mikhail Ulyanov said that in order to continue the provocation, the militants in the province of Idlib could carry out a bombardment of sarin ammunition (if any) on the ground. As evidence, he cited a photo of the funnel, which does not correspond to the funnel from the munitions.
Mikhail Ulyanov:
But in the funnel is clearly visible flattened metal pipe, which has nothing in common with the aerial bomb. Obviously, this was the most important material evidence, which was able to shed light on the method of using sarin and help to identify those responsible (...) Where this pipe is now, we can only guess. The most important material evidence disappeared, and the armed groups controlling the Khan-Sheikhun area, hastily asphalted the funnel, in order to hide the traces of the crime.