The Ukrainian ambassador in Budapest, Lyubov Nepop, on his Facebook page, reports that, despite the notes of the Ukrainian authorities, in Hungary, under the windows of the embassy building, the action "Self-determination for Transcarpathia" took place. The protest action was organized by the communities that complain about the infringement of the rights of national minorities in Ukraine. On the T-shirt of one of the protesters, you can read the inscription: "Transcarpathian by law is Hungarian. Self-determination for all oppressed nations who are forced to live in Ukraine. "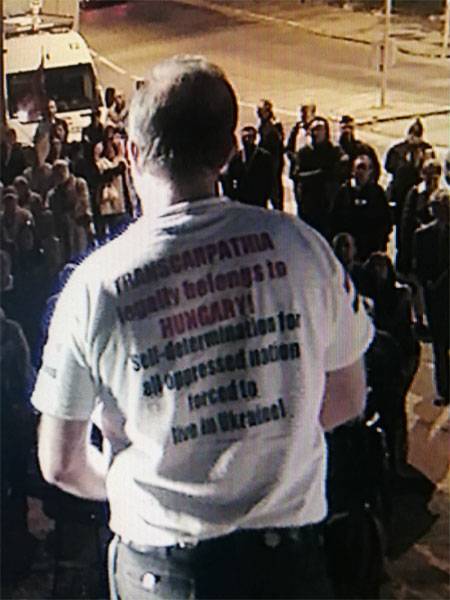 Publication
Ukrainian Ambassador:
Only yesterday, Ukrainian Foreign Minister Pavel Klimkin visited Hungary to demonstrate the readiness and aspiration of the Ukrainian side to engage in dialogue even when emotions and myths create a negative background for this.

And today. Friday 13. I do not know, the organizers chose this day by chance?

The rally under the Embassy of Ukraine in Budapest, against which the Foreign Ministry of Ukraine expressed a protest, because the organizers initially stated that they are in favor of "self-determination of Transcarpathia and freedom for Ruthenian, Polish, Bulgarian, Romanian, Armenian national communities living in the territory of present-day Ukraine", protesting against the "barbarism of the putschists who captured the Ukraine and together with it the Hungarian national brothers".

In response to the protest of Ukraine, the Hungarian side announced the right to peaceful assembly and expression of protests, during which participants freely express their thoughts, and the right to report a jointly formulated position.

I am convinced that the use of these rights does not justify the inscription on the back of the participant of the action "Transcarpathia by law belongs to Hungary. Self-determination for all oppressed nations forced to live in Ukraine "... And for the sake of completeness, the official flag of the Catalan autonomy.
The protesters said that the flag of Catalonia echoes the flag of Transcarpathia, which is why it appeared in the light of recent events, through the windows of the Ukrainian Embassy in Budapest.