The Ukrainian delegation to the Parliamentary Assembly of the Council of Europe came up with a purely Ukrainian proposal. According to representatives of the Ukrainian Verkhovna Rada in PACE, it is necessary to file a lawsuit against Russia for the fact that the Russian Federation has frozen its contributions to the international organization. Recall that Russia refused to pay for membership in PACE, arguing that the organization had previously deprived the Russian delegation of the right to vote.
The head of the Ukrainian delegation to PACE, Volodymyr Aryev, writes on his page in
Facebook
:
So, the bottom line: the blitzkrieg scenario on the Russian Federation was broken in PACE by joint efforts. But let us be very vigilant. Thanks to the Ukrainian delegation! Once again we proved that only joint actions bring results, Lena Sotnyk, Georgy Logvinsky, and I fought yesterday at the General Committee to prevent the implementation of a quick scenario. We succeeded - the majority are not ready to meet Russian blackmail, which the CE leaders admitted in conversations with me immediately after the meeting. Well, the work of Ambassador Dmytro Kuleba is beyond praise.
As a result, the PACE bureau demanded from Jagland today a tough stance at the negotiations in Moscow and generally sue the Russian Federation for non-payment of dues. The atmosphere is changing. And it changes not by itself, but through joint actions and synergy of Ukrainians in the Council of Europe
We work and follow on.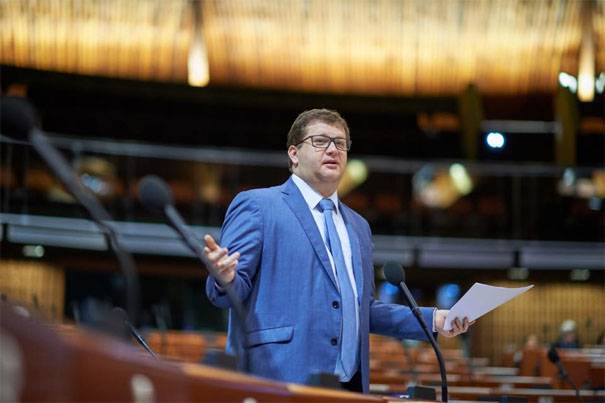 With such a post on the social network, Mr. Aryev commented on the PACE decision to postpone the actual measures against Ukraine for the adoption of the discriminatory law "On Education". As you can see, the Ukrainian representatives of PACE are even trying to present the initiative of the Council of Europe to consider the adoption of an absurd law in Ukraine as a "Russian lobby".
And the "claim for non-payment of contributions", apparently, in the fantasies of the Ukrainian expert does not imply a retaliatory claim from Russia for deprivation of the right to vote in the Parliamentary Assembly, where, by definition, different points of view should be voiced.