The American company Scaled Composites has announced the first flight of the experimental manned jet aircraft Model 401 it has built. Previously, the development of this aircraft was not known, writes
bmpd
.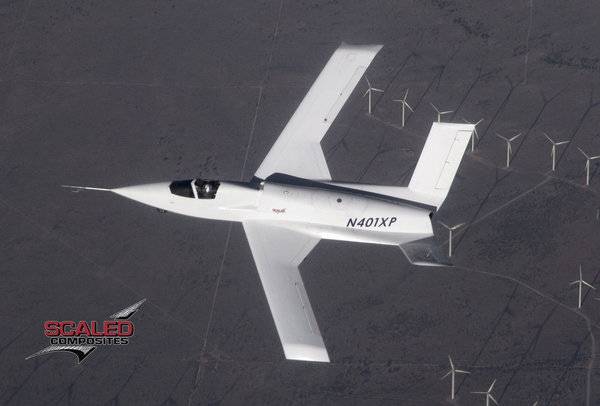 The appointment and customer of the aircraft are not disclosed. The press release merely states that "the company worked with the customer on the construction of two aircraft to demonstrate advanced and low-cost production technologies and provide aircraft for research flights to industrial partners and the United States government."
It is also reported that 2 copies of this single-seater aircraft were built, the first of which flew on October 11.
The design of the aircraft, as you can understand, is one-piece and clearly made with the requirements of stealth, the material says.
Согласно данным разработчика, «вес пустого самолета 4000 фунтов (1814 кг), максимальный взлетный вес 8000 фунтов (3629 кг). Размах крыла 38 футов (11,6 м), длина самолета тоже 38 футов; машина оснащена одним двухконтурным турбореактивным двигателем Pratt & Whitney JTD-15D-5D максимальной тягой 3045 фунтов (1381 кг)». Максимальная скорость полета до 0,6М, практический потолок 30000 футов (9,1 км), продолжительность полета до 3-х часов.
Experts unanimously noted that the Model 401 is aerodynamically very close to the unmanned aerial vehicle Avenger (Predator C) of General Atomics Corporation.