Ukrainian authorities are making new enemies for themselves. Recently, the authorities of Hungary, Poland, Romania and Moldova spoke out with harsh criticism of the Ukrainian government. The subject of criticism was the new Ukrainian law on education, according to which education in the country will be conducted only in the Ukrainian language. Ukraine's neighbors condemn this initiative and believe that such a law infringes upon the rights of all national minorities living in Ukraine.
However, instead of listening to the opinion of their European neighbors and settling the conflict, the Ukrainian authorities chose to intimidate all those who disagree with their policies. They decided to scare the American lethal defensive
weapons
, large-scale deliveries of which to Ukraine will nevertheless take place. This was told by a well-known political commentator in Ukraine, close to the upper political circles, Oleg Ponomar. It turned out that the Ukrainian authorities are going to use the lethal weapon received from the USA against anyone who encroaches on the security and integrity of Ukraine. And if earlier only Russia fit under this description, then now the once-friendly western neighbors, whom Mr. Ponomar proposes to think about the correctness of their judgments or simply intimidate, are coming under attack.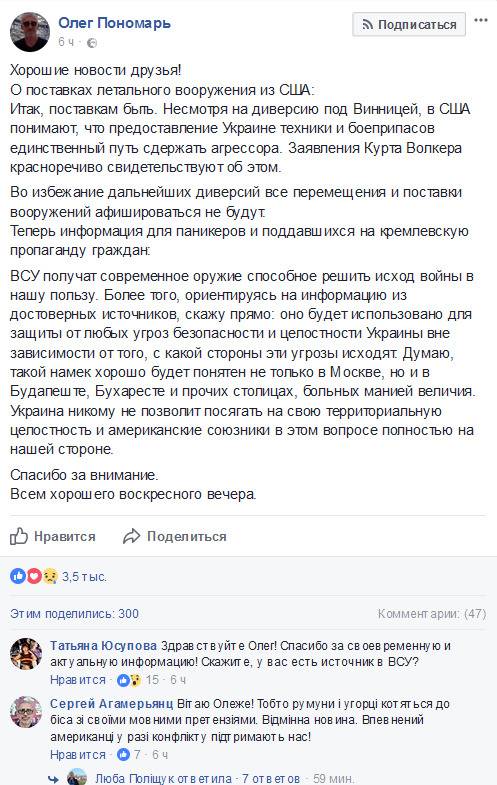 It seems that the Ukrainian authorities believed in the infinity of their capabilities and believe that they are entitled to do whatever they want. It is obvious that behind such bold statements by Kiev is the all-round support from the United States, in whose person the Ukrainian authorities have found a patron. The similar position of the United States in relation to Ukraine is simply amazing. It is no secret to anyone that the American leadership is arming its European ally in order to pacify Russia first. However, it is important to remember that giving such a dangerous toy as a lethal weapon is not dangerous for the most obedient and educated child (Ukraine): judging by the events in Vinnitsa, the Ukrainian military is not very good at handling such toys. Apparently, the White House administration doesn't realize that the aggressively-minded Ukrainian authorities can use the provided military aid not only against the original goal, but also against other, in their opinion, unfriendly states. Thus, the United States threatens the security of the entire European continent.