In November, the Pentagon intends to proceed with the transfer to Latvia of 76 helicopters Black Hawk, Apache and Chinook. According to the documents of the US Navy, military equipment will be delivered from Texas to Riga by sea. Earlier, the Russian Defense Ministry reported that Washington is contingent and armament to the western border of the Russian Federation with the pretext of "aggression from Moscow", reports
BaltNews.lv
.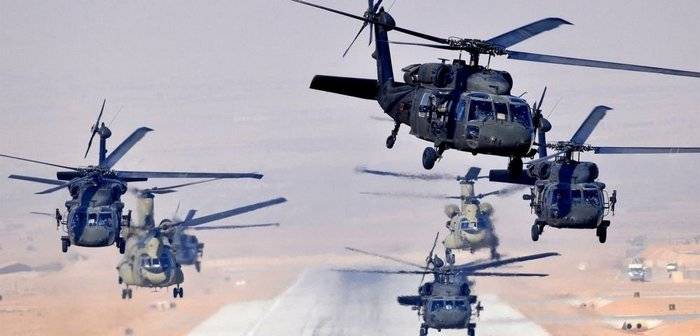 The command of naval transport requests information about the prices and availability of cargo ships <...> under the American or foreign flag to ensure transportation of about 198 thousand square meters. ft (18,4 ths. sq. meters) of military cargo (wheeled vehicles, general cargo and helicopters)
- says the request.
Military equipment will go one or two ships from the port of Corpus Christi (Texas) to Riga. Start of loading is planned in November of the current year.
The list of equipment that the Navy intends to transfer to Latvia shows 76 helicopters, among them various modifications of the Sikorsky Black Hawk (Black Hawk) multi-purpose helicopter: one machine is equipped with advanced engines with a digital control system, 12 - modified for medical needs. In addition, the list includes the Apache 24 attack helicopter ("Apache"), as well as the Boeing Chinook ("Chinook") heavy military transport helicopter.
As noted in the document, helicopters are in service with the tenth army brigade
aviation
U.S.A.