The Ministry of Defense decided to arm the 4th Guards
tank
Kantemirov's division with T-80BVM tanks. In military slang, these fighting vehicles are called "reactive", according to
News
.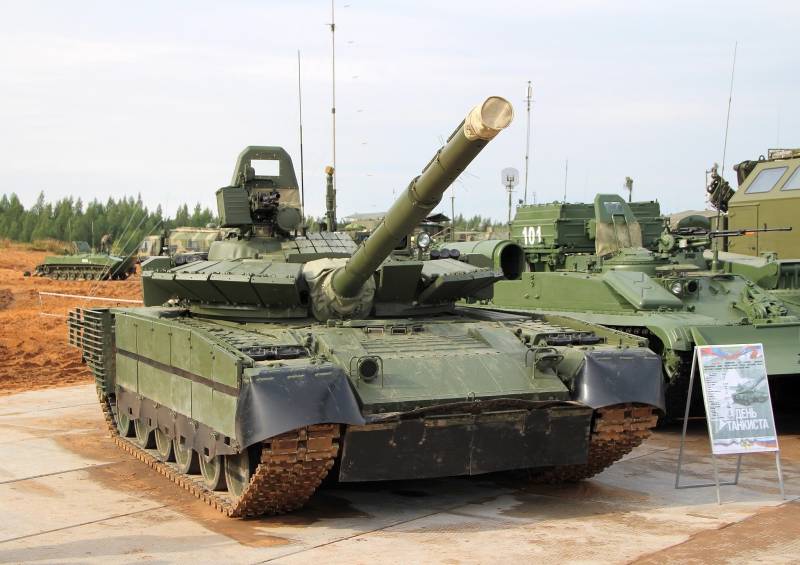 Instead of traditional diesel engines, gas turbine engines (GTE) are installed on the "eighties", and the latest fire control system allows the tank to hit ground and even air targets during the day and at night in any weather.
The Defense Ministry said that "the decision to re-equip the 4-th Guards Tank Kantemirovsky Order of Lenin of the red banner division of them. Yu.V. Andropov on T-80BVM was adopted this summer. " It is planned that new cars will start to enter the division next year.
"The updated tank received a modern Sosna-U fire control system (LMS) with a thermal imager, laser range finder and automatic target tracking. The LMS detects even small objects at any time of day and in any weather conditions. It is enough for the T-80BVM gunner to aim the target and click on the button. "Pine" will automatically calculate the necessary corrections and open fire. From the enemy missiles and shells T-80BVM protects the dynamic protection of "Relic", "says the material.
The car is equipped with a GTE with a power of 1250 hp, thanks to which the tank can accelerate to 80 km / h on the highway and to 60 km / h on rough terrain in a matter of seconds.
Thanks to the T-80BVM, the Kantemirov division will become a universal tool for the European theater of operations. T-80BVM practically does not differ from T-72B3. They have the same MSAs, surveillance devices and sights. The T-80 has higher speed, better maneuverability and acceleration characteristics. There are no long distances in Europe. Therefore, there is no need to make long marches. For tank units, speed is everything. No matter how far the tanks will travel. It is important how quickly they can make a march and take up defense, or enter a breakthrough to the rear of the enemy,
Alexey Khlopotov, historian of tank construction, told the newspaper.