Over the past day, the Syrian army, with the support of the Russian Aerospace Forces, took the heights around the city of El-Qaryatayn and closed the terrorists' encirclement; 15 civilians of Raqqa were killed by the air forces of the international coalition; opposition militants 100 laid down
weapon
and surrendered CAA in Aleppo. Reports about it
FAN
with reference to Syrian sources.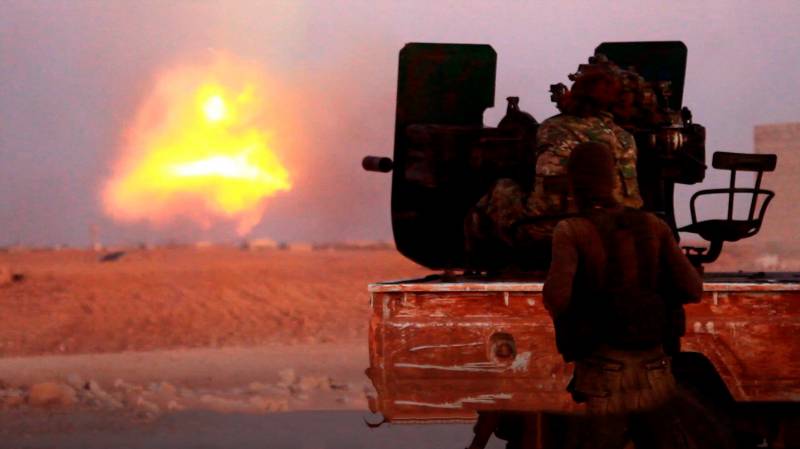 In Eastern Gute (Damascus), the advance of the CAA and allied forces on the position of anti-government forces continued. The artillery of the SAR Army conducts shelling of fortified radicals in the vicinity of Jobar and Ain Tarma. Also, the Syrian army shelled militant positions near the city of Arbin. In the city of Arsal, located on the Syrian-Lebanese border, security forces discovered a warehouse of explosives from an IG group (banned in the Russian Federation).
Near 100, opposition militants laid down their arms and surrendered to the Syrian Arab Army (CAA) in the northeast province of Aleppo. In the north of the region, CAA artillery bombarded the zones of deployment of radical militants in the area of ​​the cities of Anadan and Khayan.
The Syrian army, with the support of the Russian Aerospace Forces, encircled the city of El Qariathein in the province of Homs. The troops established control over most of the strategic heights around the city and began preparations for the assault on the IS defense line. The CAA artillery fires at positions of opposition militants in the area of ​​the village of Al-Sa'an al-Asvad, as well as in the area of ​​the road Al-Sa'an al-Asvad - Der Ful.
Government forces under the cover of the Russian Aerospace Forces advanced to the southern entrance to the city of Al Mayadin in the province of Deir ez-Zor. Thus, the troops besieged the city from three sides, pushing the IG terrorists to its northern border. In the east of Deir ez-Zor province, battles were fixed between the CAA, supported by the Russian Aerospace Forces and the Hezbollah units on the one hand and the IG terrorists, on the other. At the end of the day, government forces cleared the town of Hisham Fukani from the militants.
Turkish army soldiers conduct reconnaissance operations in the province of Idlib. Intelligence is carried out in preparation for the introduction of larger forces to monitor the truce in Idlib.
In the administrative center of the province of Rakka continued fighting between the IG and the Syrian Democratic Forces (SDF). Clashes of opponents were noted in the area of ​​the city stadium. In the area of ​​the city cemetery, Kurdish militia fighters eliminated 17 terrorists and seized a large number of weapons and ammunition. The SDF fighters evacuated from the Raqqah areas, where fierce fighting is taking place, 155 civilians. Air Force Western Coalition. The Western coalition air forces launched a series of strikes against the residential areas of the city of Rakka. As a result of the bombing, 15 civilians died.