The Ukrainian Foreign Minister, whom some representatives of the Hungarian authorities refused to meet because of the discriminatory law on education, continued his "offensive" rhetoric on Budapest. Earlier, Klimkin said that Hungary actually supports separatism in Ukraine, commented on the upcoming action "Self-determination for Transcarpathia". Recall that during the week the Hungarian Foreign Ministry confirmed the earlier statement that if Ukraine does not revise the adopted law, Budapest will initiate the withdrawal of the signature on the agreement on Ukraine's European integration.
Pavel Klimkin continued accusatory rhetoric against Hungary, stating that the leadership of this European Union country supports the certification of Hungarians from Transcarpathia.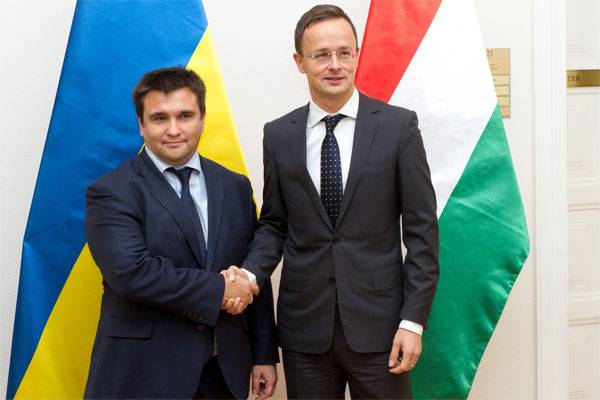 According to Klimkin, Hungary "is engaged in the integration of Ukrainian citizens into the EU by issuing some of them Hungarian passports".
Klimkin
:
We do not close Ukrainian schools, but create opportunities for their self-realization both in Ukraine and in Hungary. Ukraine's European integration should not be carried out through certification (of the Hungarian population of Ukraine), but through a joint movement in the EU. "
Hungarian Foreign Minister Peter Siyarto said that a personal meeting with his Ukrainian counterpart did not convince him to change his mind about the law passed in Ukraine.