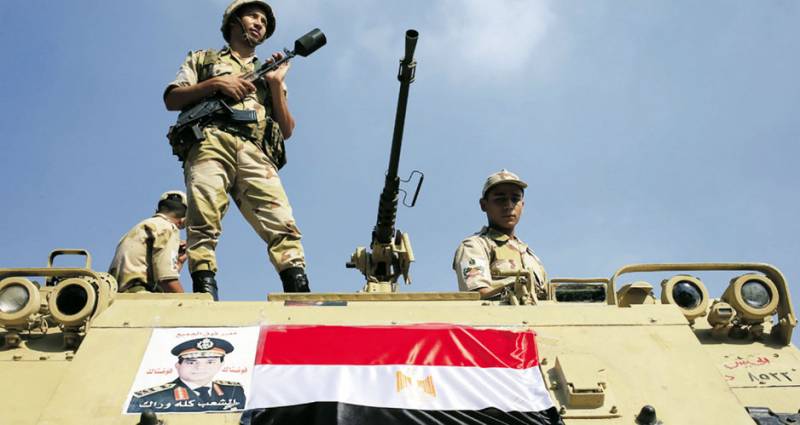 The wars with Israel, although they were all lost, gave the Egyptian army considerable experience. And today it is the most efficient of the Arab. And by the number of weapons and equipment - one of the largest in the world.
The army is recruited, while it has a very high prestige in society and a strong influence on political life, which was once again confirmed in the summer of 2013, when, with the active support of the urban population, the military overthrew the Muslim Brotherhood government.
The country is well developed by the Arab standards of the military-industrial complex, capable of producing equipment of almost all classes, albeit under foreign licenses. The country maintains exclusive relations with the United States, actively cooperates in the military-technical sphere with the main European countries, especially with France, has long-standing close ties with China and has almost completely restored relations with Russia. This makes it possible to acquire military products from everyone: apparently, Egypt is the only country procuring
weapon
both in North and South Korea.
However, today a significant part of the equipment used by the ARE army is seriously outdated, which is why the figures below should be considered largely conditional. Nevertheless, in the Middle East, Egypt is inferior in military potential only to Israel.
The ground forces include three field armies, each with three army corps. They consist of five armored (1-I Republican Guard, 4, 6, 9, 21-I) and eight mechanized (6, 7, 8, 16, 17, 19, 23, 36-I) divisions, as well as, in the same way, it will be out of the way to make it out of the way to make it into an allotment, and you will be in a position where you are going to be able to use it. , eight regiments of special forces.
Egypt has significant missile potential, including 6 PU (24 missiles) of the North Korean Nodon MRBD (range reaches 1300 km), 92 PU (390 missiles) of the Soviet Р-17 several modifications (500 – 900 km), and also created 6 PU of own Al-Badr OTR (30 missiles) and 10 PU (50 missiles) of North Korean Xvason-6 plus 60 PU of its own Sacre-80 and 48 PU of Luna with arsenal 648 missiles ( 6 for installation) range of less than 100 kilometers.
The basis of the tank park is made up of the American МNNXXА1130 "Abrams" 1, most of which are assembled under license in Egypt. Significantly obsolete machines: American M1А1929 / 60, 1 "Ramses-3" (our T-425, modernized in Egypt according to Western standards), to 2 Soviet T-54. Of the more 653 BRMs, almost half of the Soviet BRDM-62. There are also 600 not less old American "Commando Scout" and 2 М112 (version МХNUMX BTR), 33 modern South African RG-981М. Infantry fighting vehicles - the Dutch YPR-113 (180 unit) and the Soviet BMP-32 (up to 765). The number of armored personnel carriers exceeds 541 thousands. These are 1 own "Fahd-225" (with a tower of the Soviet BMP-5) and 635 "Fahd-280", American V-2 and 758 М240 180 (including the 150 EIFV with the BMNUMX "Bradley" BMP tower with "Bradley", "GH-100," Brad "," G-100 " with 2448-mm cannon, 113 KSHM M1200), 2 American Caiman and 800 RG-25, 131 English Sherpa, 577 Dutch YPR-400, 260 of the Spanish BMP-33P; BTR-115, to 57 BTR-765PKM (upgraded in Belarus), to 217 BTR-600, to 600 Czechoslovak OT-60 and 230 OT-40, to 479 their "Walid". However, as already mentioned, in view of the venerable age of a significant part of the technology, the number of BRMs in service, BMP and BTR can be much less.
Egyptian artillery is extremely numerous and the overwhelming majority of its samples are Soviet, Chinese or own. SAU: 124 with its SP-122 (Soviet howitzer D-30 on the American ACS M109 chassis), 565 M109 (365 А1 / 2 / 3, 200 А5). Towed implements: up to 48 Chinese 60 Tour and up to 144 similar Soviet D-74, up to 200 D-30, up to 100 M-30, 388 Tour 59 and 98 M-46, up to 264 D-20, up to 136 D-20, up to 16 D-52, up to 24 M-23, up to 100 D-3, up to 50 19 Finnish GH-8, XNUMX Soviet C-XNUMX, to XNUMX BS-XNUMX, to XNUMX A-XNUMX. The number of mortars can reach XNUMX thousands.
Much attention is paid to the development of rocket artillery, a number of own MLRS of the Sakr family based on Soviet, Chinese and American designs have been created. The total number exceeds 1200. These are 250 VAP-80 (80 mm), 96 towed RL-812 (analogous to the Chinese Tour 63), North Korean X-NUMX BM-145, 11 "Sacr-48", 8 "Sacr-50", X-CHNXX, X-CHNXX, X-CHNXX-10, X-CHNXX, 72 "Sacr-18", 130 "Sacr-30", X-CHNXX, X-CHNXX, X-CHNXX, SX-100, 36 "Sacr-20", X-CHNXX, X-CHNXX, X-CHNXX, SX-RT-45, 100 Sacre-21, 38 Sacre-XNUMX, before XNUMX Sacre-XNUMX, order XNUMX of Soviet BM-XNUMX Grad, XNUMX American MLRS. As in the case of armored vehicles, the actual number of artillery systems may be significantly less than this, since it is high time to write off a part of the guns, mortars and MLRS.
There is a US 1867 "Tou" (including 482 self-propelled - 182 M901, 300 YPR-765PRAT). All other ATGMs (around 1200 Soviet "Baby", 220 French "Milan", 260 issued under the English license in Egypt "Swingfire") are decently outdated.
In service with military air defense 121 short-range air defense system. These are the 75 modern American Avenger and the old 26 Chaparel, the Soviet 20 Strela-1. The number of MANPADS reaches 3 thousands: 164 American Stinger, 600 Russian Igla, to 2000 Soviet Strela-2 and their local counterparts Ain al-Sakr. There are more than 300 ZSU - 108 American M163, 218 Soviet ZSU-23-4. Also, on arms consist 72 air defense system "Amoun" (each including American SAM "Sparrow" and Swiss aircraft guns GDF-005) and 220 ZRPK chassis BTR M113 with gun ZU-23-2: 148 "Nil-23» (with MPADS "Ain al-Sakr") and 72 "Sinai-23" (with Stinger MANPADS). Anti-aircraft guns: US M72A167 3 to 650 Soviet ZU-23-2, 700 to 61-K, to C-600 60 to 400 12 COP-up to COP-300 19 to 120 30-COP. The combat capability of most Soviet guns is extremely doubtful.
The Air Force has up to 500 combat aircraft. The most modern of them are 219 American F-16s (26 A, 7 B, 144 C, 42 D), 6 French Rafales B and 19 Mirage-2000 (15 EM, 4 combat training VMs). The rest of the aircraft are outdated, so not all of them have retained combat effectiveness. This is up to 73 French Mirage-5s, up to 52 Soviet MiG-21s and up to 73 of their Chinese counterparts J-7, as well as no more than 12 reconnaissance vehicles based on military vehicles (probably 6 Mirage 5SDR and MiG-21R each) . In the ranks of the American aircraft RER (2 EC-130H, 2 "Beach-1900") and AWACS (7 E-2C). Transport
aviation
includes 23 C-130H, 1 VC-130H, 2 "Cessna-680", 1 "Beach-200", 8 "Beach-1900C", 4 "Falcon-20", 6 "Gulfstream" (all American), 8 Canadian DHC-5D, 3 Ukrainian An-74TK-200A, 1 European A-340, 20 Spanish S-295. Training aircraft: up to 39 Franco-German Alpha Jets, up to 54 Brazilian EMB-312, up to 74 German Grob-115EG, up to 120 Chinese K-8, up to 11 Czech L-39ZO and up to 39 L-59E, 10 Z- 143. Alpha Jets, L-39 and L-59 can be used as light attack aircraft.
All Egyptian army aviation is part of the Air Force. These are 45 American AH-64D "Apache" and no less than 4 Russian Ka-52, 2 helicopter RER "Commando" Мk2Е, more 200 multi-purpose and transport vehicles (75 French SA-342K / М / L, 3 European-powered X-NNXX French X-NUMX X-NUMX X-NUMX / M-L, 109 X-NUMX) AW-2, up to 139 Russian MI-50, 17 Soviet MI-39, 8 US CH-18D, 47 S-4, 70 UH-4L, 60 UH-22, up to 60 "Command").
Air defense in Egypt is a separate aircraft from the Air Force. Armed - 18 batteries (108 PU) US SAM "Improved Hawk" and 4 battery SAM "Patriot" (32 PU), 44 battery Soviet of S-125 (88 stationary PU) and 10 battery upgraded version of the same SAM (60 Mobile PU), 40 batteries of SAM Tayer el-Khob, a local modification of the Soviet ZRK C-75 (240 PU), 3 division (18 PU, 9 ROM) of the Russian ZRS C-300В, 10 batteries of the Russian Buk system (30 PU) ), 14 batteries of the Soviet Kvadrat air defense missile system (84 PU), 40 batteries of the Amun system (80 PU ZAS Aspid, 80 guns GDF-005), 315 SAMs of short range (XNUM X Russian "Thor", 16 French "Crotal", 144 American "Chaparel"). Of all the above systems, only the Patriot and C-155В, the Buk and Thor systems can be considered modern.
The Navy, like other types of Egyptian armed forces, is very large, but they also have a lot of outdated equipment. In the underwater
navy
4 very old Chinese submarines of project 033 and 2 latest German projects of 209/1400, with at least 2 more of them being built. There are 11 frigates: 1 "Tahya Misr" (French FREMM project), 4 types "Alexandria" (American "Oliver Perry"), 2 "Damyat" (American "Knox"), 2 "Al Zafer" (Chinese pr. 053Н1) , 2 "Abukir" (Spanish type "Descuberta"). The Tariq frigate and the El Fateh destroyer of British construction in the forties are used as training. The Corvette class includes El Fateh (the newest French built, three more are supposed to be built) and Shabab Misr (South Korean Pohang). The Navy is armed with 4 latest American missile boats of the Ambassador-3 type, 6 English Ramadan, 5 German Tiger (Project 148), 6 Chinese Hegu (Project 024), 4 Oktober (former Soviet pr. 183, but with Italian anti-ship missiles "Otomat"), 8 Soviet projects 205 and 1 Russian project 12411. Patrol boats: 4 Chinese Hainan type, 6 Soviet project 206 (former torpedo boats with installed MLRS BM-24), 4 Chinese "Shanghai"; 11 American "Swiftship". The mine-sweeping forces include 2 American Osprey, 3 Dat Assavari and 2 Safaga (American Swiftship), 4-6 Asyut (Soviet ave. 254), 4 Aswan (Soviet ave. 266), 4 Finnish minstabs "Tuima" (former missile boats, etc. 205).
Landing forces include 2 UDC type "Nasser" (French "Mistrals", failed "Vladivostok" and "Sevastopol"), 3 Polish TDK project 770, 9 Soviet landing craft project 106. Why Egypt "Mistrali" difficult to say (they and Russia, objectively speaking, were not very necessary). Perhaps there is excessive ambition or even direct corruption. However, it is possible that the purchase of the UDC is somehow related to the conflict between Egypt and Ethiopia, or the ships were acquired on the recommendation of the UAE, based on certain collective all-Arab actions.
Of the entire fleet, modern, in addition to UDC, can only be considered "Tahya Misr" and "El Fateh", boats "Ambassador-3" and with reservations - frigates "Alexandria", RK project 12411, minesweepers "Osprey".
The coastal defenses include the 3 PU of the Italian PKR Outot, several of the Soviet SSR 4K87 Sopka, and the Soviet SM-4-1 guns.
Naval aviation has X-NUMX American anti-submarine helicopters SH-10G and 2 "Sea King", 1 French multipurpose SA-9.
Despite the archaic and not too high level of combat training of the Armed Forces, the country has no real opponents in the Middle East with the exception of Israel, with whom Egypt is no longer going to fight. In any conflict in the region, the army of Egypt will ensure the victory of the coalition on whose side it will fight. Therefore, the Arabian monarchies and seek not to miss Cairo from the sphere of influence.
After the military overthrew President Mursi, who represented the Muslim Brotherhood movement, in July 2013, Egypt completely broke with Turkey and Qatar, with whose help Mursi came to power. But Cairo was dependent on Saudi Arabia and the United Arab Emirates, since after the overthrow of the "totalitarian Mubarak regime", Egypt's economic situation became, as one would expect, disastrous. This dependence of the Egyptian generals was not at all pleased, because for the sake of liberation from some Islamic radicals they had to support others. After a quarrel between Riyadh and Abu Dhabi, Cairo naturally sided with the more moderate UAE. As a result, Egypt took an extremely limited part in the Yemeni intervention, and absolutely none at all in the fight against the "Assad dictatorship". This greatly contributed to the fact that the situation in Syria was broken in favor of government forces. Egypt is rapidly returning to the number of the most important buyers of Russian weapons: the Cairo is expected to sell MiG-35 fighters, and the delivery of attack Ka-52 helicopters has already begun. This is an additional guarantee that the strongest militarily Arab country will not take the side of anti-Russian forces in the Middle East conflict.