In the western information segment, all ears buzzed to the effect that after the restoration of diplomatic relations with Cuba, American diplomats in Havana experienced health problems. Several US intelligence officials, whose status Washington does not particularly conceal, were allegedly "acoustically affected." American "friends of Cuba" suddenly had dizziness, loss of spatial orientation, it was getting dark in the eyes and very, very much wanted to go home - to Michigan, New York and Colorado ...
The State Department and the profile intelligence service headquarters actually decided to withdraw part of the staff of the US Embassy in Havana - along with members of intelligence families with diplomatic passports. About how now (after returning to their homes) the "acoustically injured" Americans feel, is not reported.
Against this background, more and more conspiracy theories about the reasons for what actually happened to American pseudo-diplomats on Liberty Island began to appear in Western media. And, of course, the main "working" version - "was not without the machinations of Russia." If the Western public is poured into the ears of "evidence" that for 100 thousands of dollars Margarita Simonyan chose Facebook as the president of the United States Donald Trump, who spent at least 40 billion dollars for the election campaign, the version with "omnipresent" Russians in Cuba not at all surprising.
In general, the averaged version is as follows: Russia helped the Cubans in advance to turn the building of the American embassy in Havana into a "tuning fork", in which acoustic (unheard of and not perceived by anyone) effects caused only American heads to boil. At the same time, the Cuban embassies didn't perceive any acoustical effects, apparently taking advantage of top-secret Russian developments - invisible ear plugs ...
The degree of hysterics has reached such a point, beyond which already frank insanity, which is seriously discussed in overseas media. Moreover, it is also discussed with a view to the fact that "the United States must give Russia a powerful answer." Everything is as usual - they themselves invent a threat, they themselves seem to be afraid of it, then they assign a guilty person, and then open the front to solve their own tactical and strategic tasks, which, at times, have nothing to do with the topic of stirring a sensation.
It seems that this time too: "We have evidence, but they are secret, and therefore we will not show them to you." And the phrase "secret evidence" after Powell's test tube in the UN Security Council acquired a certain semantic tone.
What is marasmus (if, of course, frank information provocations can be called marasmus)? Here the other day, the Russian Ministry of Emergency Situations (EMERCOM) on its official
Online
reported on the shipment of tons of humanitarian aid to Cuba 930. The report says that on Wednesday, 11 October, a vessel with a cargo of emergency aid for the Liberty Island, injured by the destructive hurricane Irma, left the port of Novorossiysk. Press Service Office:
The Russian Federation has always responded promptly to emergency situations occurring in Cuba, and delivered humanitarian aid on a bilateral and multilateral basis.
Three days before
Ministry of Industry and Trade
published a release informing that the company Sinara-Transport Machines (STM) is sending the first seven TGM8KM diesel locomotives to Cuba as part of the contract. The diesel locomotives, accompanied by Cuban railway specialists (trained in the Russian Federation), go first to the route from St. Petersburg first to Germany and then, after transshipment to an ocean-class vessel, will be delivered to the port of Havana. In total, in Cuba, under a contract worth 230 million dollars, Russia will supply 45 locomotives by the end of 2018.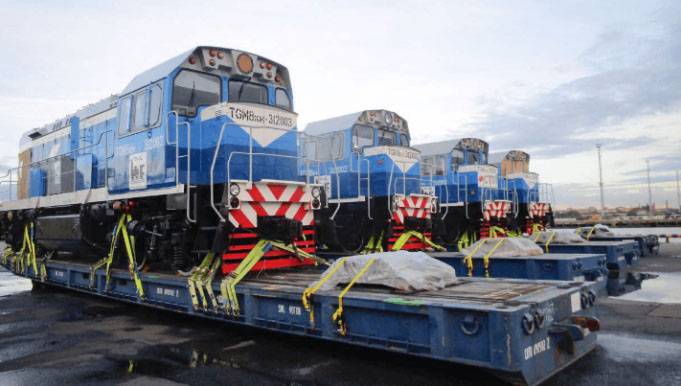 So, after reports of alleged acoustic attacks on American diplomats at the American embassy in Cuba, the United States announced that it was necessary to closely monitor shipments from the Russian Federation to Liberty Island. According to some information, even the transshipment of locomotives in the German port will be carried out under a vigilant "partner" eye. Officially in Washington this information, for obvious reasons, is not commented. However, hearing such comments would be very interesting.
Apparently, the overseas media paranoia in relation to Russia has reached such proportions that any sea transport towards Cuba from the Russian Federation is perceived, well, almost as a segment of the repetition of the operation "Anadyr" 55-year-old. Apparently, in the States, exaggerating as much as possible, they are trying to announce that Russia does not deliver humanitarian aid with the locomotives prescribed in contracts to Cuba, but at least Iskander, or even BZHRK, which will ply along railways of Cuba and in parallel to have an "acoustic impact" on the States.
Everything, as they say, would be funny if it were not so sad. Russia finally and irreversibly entered into an era in which such media paranoia has one single goal - to limit the possibility of international trade, chop off economic, cultural and other ties, reduce contacts to the level of the Cold War. This is despite the fact that Russia has actually been declared an "evil empire," and therefore will continue to sculpt stories about everything up to the "locomotive" Anadyr-2.0. " I really do not want "partners" to let go of the self-printed "crust" about owning a unipolar world.
By the way, American media, of course, does not care about how many American transports through third countries go with humanitarian aid to representatives of terrorist groups in the Middle East. But sending merchant ships from Russia to Cuba brings back memories. They have become too impressionable - Kuzkin's mother "seems" everywhere. And so that everything is formed according to
historical
"classics" - it remains only to restore the Jackson-Vanik amendment.