BAE Systems Hägglunds AB (Swedish divisions of the corporation) has completed the production of a prototype demonstrator 120-mm double-barreled self-propelled mortar Mjölner, reports
bmpd
with reference to the magazine "Jane's International Defense Review".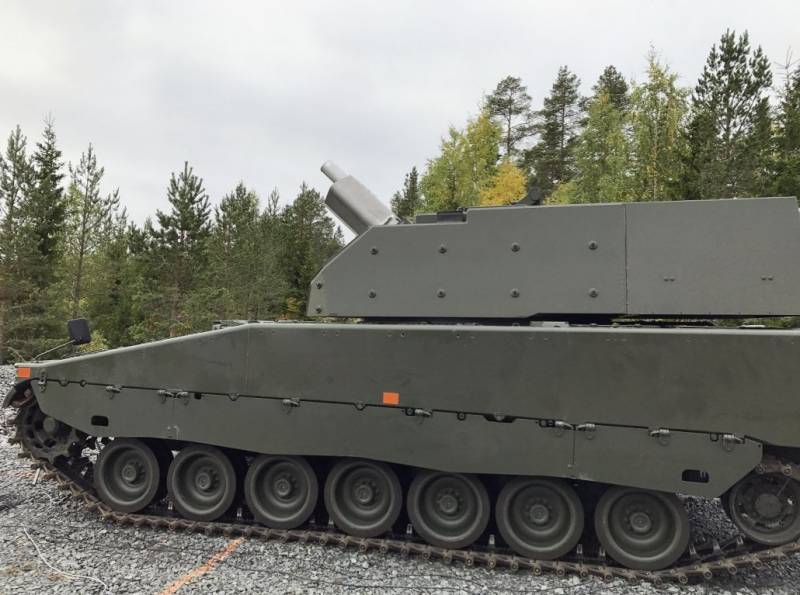 Mjölner is made on the chassis of an infantry fighting vehicle CV90. In the near future, the company intends to begin testing the system.
The contract for the supply of the Swedish army 40 self-propelled mortars was concluded in December 2016 of the year. The transaction value was $ 68 million.
In the Swedish army, Mjölner self-propelled mortars were given the designation Granatkastarpansarbandvagn 90120 (Grkpbv 90120), and their supply should begin in the 2019 year.
"Unlike the highly automated AMOS system, the Mjölner system is a rather simple double-barreled smooth-bore mortar with" conventional mortar-type "barrels with recoil devices and with manual loading with a muzzle (!) Part. For shooting using conventional 120-mm mines with a range of up to 9 km. For loading from the barrel, a sliding loading mechanism is used, delivering two mines. Shots are made consistently with a small interval, "the article says.
At the same time, the long-term rate of fire of 10 shots per minute is claimed, up to a maximum of 16 shots per minute. Firing is possible only from a place (although it is alleged that reloading of the mortar is possible on the move).
According to the author, "mortars are placed in a rotating steel armor turret, and the turret will be rotated only by manual drive." Mass of the tower - 7 tons. Combat of 50 mines located in the rear of the tower, manual feed, there may be an additional ammunition in the body of the machine.
The crew of the car - 4 man (commander, driver and two loaders). Calculation when shooting is in the fighting compartment in a standing position in full growth.