In Ukraine, the so-called military experts once again show their activity, offering their own recipes for the return of Donbass. At the same time, the simplest recipe is to read the Minsk agreements from the beginning to the end, and then none of the "experts" in Ukraine consider them to fulfill them.
Former commander of an extremist armed formation "Azov" (* banned in the Russian Federation) Andrei Biletsky presented his version of the return of Donbass. According to Mr. Biletsky, who gave an interview
"Apostrophe"
, no option peacekeeping mission is not able to return to the Donbass Kiev jurisdiction. Biletsky to solve the "Donbass issue" offers "pull Russia on all fronts."
Biletsky:
No UN mission (peacekeeping) anywhere has led to the restoration of territorial integrity. (...) The cease-fire is not the ultimate goal. The Blue Helmets never, ever led to the restoration of the country's territorial integrity, except in Africa. But Africa is a slightly different situation. What are UN peacekeepers doing? Their task is not to take the side of Ukraine, as they will tell us now. Their task is to establish the status quo. And, yes, there will be no shooting.
Journalist Svetlana Sheremetyeva asked Biletsky: "Is it really bad if they stop shooting in the Donbass?" The ex-commander of an extremist national battalion who exploits Nazi symbols, said directly that the cessation of hostilities was not actually part of the tasks of Ukraine.
Biletsky:
Then we can do even easier: we can capitulate even tomorrow.
Journalist:
That is, we will be able to liberate the occupied territories with our own forces? Didn't you say in an interview a year ago that if Russia goes to a big war to Ukraine, then we will be drowning in blood?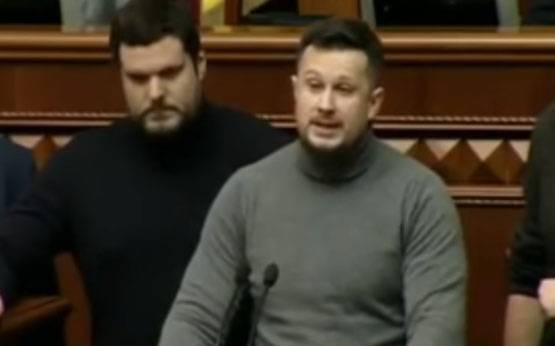 Biletsky:
I am absolutely sure that we not only can - we need to do it ourselves.
This alone says that the Ukrainian radicals in general support the idea of ​​a big war, and it does not matter for them how many people will eventually die.
Further, Biletsky proposes to play on the multinational and multi-confessional composition of Russia and try to throw in internecine conflicts - the very conflicts in the Russian Federation that were previously supported by the Ukrainian Nazis. One of the directions for the "strike" Biletsky calls the North Caucasus. Another is "pulling Russia in Syria". This is a real confirmation that outright terrorists are fighting in the Ukrainian Nabbat, and the terrorists not only command them on the fields, but also sit in the Ukrainian parliament.