An entire division of the US Armed Forces has actually deployed near the Russian borders, said Defense Ministry spokesman Major General Igor Konashenkov.
According to him, the past Russian-Belarusian exercises Zapad-2017 were accompanied by unprecedented media hysteria in Europe about their "non-transparency", "hybrid" operations of the Armed Forces, "hordes" of the military, which had already received an order to "invade", and also about that Russia left its "strike force" in Belarus.
But they were especially different in their "exposures" and Russophobia was missed by NATO and EU representatives represented by the leadership of the Baltic countries and Poland. Polish Defense Minister Anthony Matserevich even managed to declare the need to deploy at least two US divisions in his country for "protection against external threats."
- stressed Konashenkov.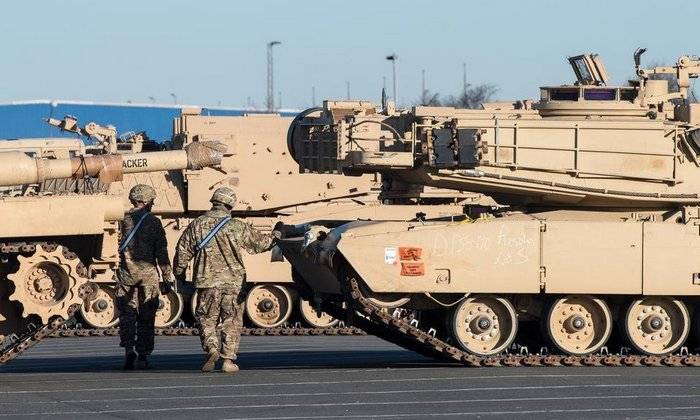 Meanwhile, in Poland and the Baltic countries, against the background of the West-2017 exercise, there was a "rotation" of the 3rd armored brigade of the US Armed Forces deployed according to the plan of Operation Atlantic Decision. All equipment of this brigade (87
tanks
M1A1 Abrams, heavy self-propelled howitzers M109 Paladin, 144 BMD Bradley, and about a hundred more units of vehicles) should have remained. And the personnel of the 3rd Armored Brigade, in order not to violate the NATO-RF Founding Act, signed with Russia in 1997, were to be replaced by servicemen of the 2nd Armored Brigade of the US Armed Forces
- declared Konashenkov.
He added that against the background of hysteria about the planned military invasion of Russia, the 2017-I armored brigade of the USA arrived in Poland "quietly" directly from Poland and deployed there (Boleslawiec, Dravsko-Pomorsk, Torun, Skvjovina and Zagan) also with his armored vehicles.
At the same time, in Poland and the Baltic republics, the abandoned military equipment of the 3 of the American armored brigade did not disappear, the Defense Ministry spokesman said.
Thus, contrary to all statements by NATO and the United States about the "insignificance" of troops being pushed to the Russian borders, the brigade is now de facto deployed, but a mechanized division of the US military, where you can transfer trained personnel from the nearest American base in Europe in two hours Ramstein, West Germany)
- stressed Konashenkov.
All the hysteria about the "Russian threat" from the "West-2017" - fraudulently played the information curtain of the operation of the Pentagon. So who is preparing the aggression? "
- leads
RIA News
general words