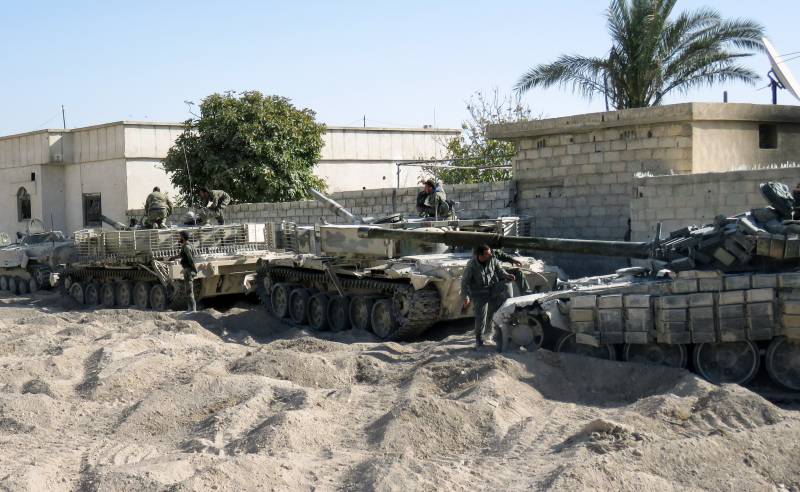 Government forces, supported by the Russian Aerospace Forces, are leading the fight against terrorism in the Syrian Arab Republic to a logical conclusion. The province of Idlib remains the last stronghold of terrorists, the clearing of which remains a matter of a matter of days.
The active offensive of the Syrian army and the successful work of the Russian
aviation
in the province of Deir Ez-Zor are doing their job. The settlement of El-Meyadin is almost completely freed from terrorist groups. Next in line is the city of Abu Kemal, whose liberation is comparable to the complete defeat of the radicals in the east and southeast of the country.
In Syria, the extremists have the last frontier - Idlib. However, according to experts, by the end of the month, peace and quiet will come to Idlib and the province of the same name. Note that this opinion is not groundless; several factors testify in its favor at once.
Hit your own, don't mind
Recently, you can see how terrorists are fighting among themselves. A striking example of this is the recent clashes between the radicals of ISIS and Jabhat al-Nusra in Abu Dali (Hama province), which resulted in dozens of dead and wounded on both sides.
Today, clashes between extremists continue in the Rahajan region (border of the provinces of Hama and Idlib). So, on the eve of IS terrorists killed 12 and wounded 25 people from Nusra.
Death agony

According to residents of settlements previously freed from terrorists, there is fear and panic among the militants, and cases of desertion have become more frequent. Hasan, a resident of the village of Abu Ribyas, says the radicals, dressing in civilian clothes, are leaving the war zone. It is noteworthy that the mass exodus is due not only to the successful actions of government forces, but also to the betrayal on the part of the field commanders, who are increasingly ordering to kill their wounded subordinates.
Two divisions are preparing for the assault on Idlib

During the war, government troops have significantly increased their military skill, the rapid offensive strengthened the spirit of the Syrian fighters. The approaching victory over terrorism is the merit, first of all, of the country's patriots, one of whom is Sheikh Ahmed bin Muhammad al-Mubarak. The sheikh provided comprehensive assistance to the government troops in the most difficult moments of the war.
Now that the time of the decisive battle is approaching, Mubarak is forming two divisions from the eastern tribes of Idlib. Presumably, it is they who will have to distinguish themselves in the last battle with terrorists, which is not far off ...