In the media of the countries of Central Asia, there are reports about the aggravation of the situation on the Kyrgyz-Kazakh border. Eyewitnesses report that since yesterday, a multi-kilometer car jam has formed at the border from the Republic of Kyrgyzstan. The State Border Service of Kyrgyzstan reported on the transition to an enhanced version of duty in connection with the upcoming presidential elections. Recall that elections in Kyrgyzstan will be held on October 15. The current president of the country, Almazbek Atambayev, under the constitution, cannot stand for them.
It is noted that the congestion was formed due to restrictions imposed on the Kazakh side. About what exactly these restrictions are not reported.
Political scientists in Kazakhstan have reported some deterioration in relations between official Astana and Bishkek. The reason, as reported by the portal
EurAsiaDaily
, is the meeting of the President of Kazakhstan Nursultan Nazarbayev with one of the presidential candidates of Kyrgyzstan, Omurbek Babanov, who heads the Republic-Ata-Zhurt party. Babanov served as the Kyrgyz premier in 2011-2012. The Ministry of Internal Affairs of Kyrgyzstan states that Babanov allegedly hires agitators, who for money call on citizens to vote for him in the upcoming elections. Representatives of the headquarters of Babanov called these statements the Ministry of Internal Affairs of the Republic slander and filed materials with the prosecutor's office about the need to deal with "abuse of authority by law enforcement officers."
Against this background, in Bishkek and Astana, they say that nothing extraordinary happens at the border, and the situation will soon return to normal. Meanwhile, users of social networks post a video, in the comments to which it is stated that Kazakhstani military personnel and army equipment are being dragged to the border.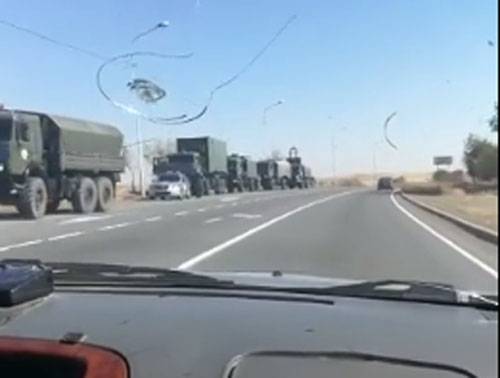 User
Facebook
from Kyrgyzstan Avlanbek Dzhumabayev:
RELATED NEIGHBORS AROUND SERIOUS FORCES TO THE BORDER!

This is a video of our citizens. They took off as soon as they stopped the border yesterday morning, heading for Almaty. Taxi drivers who regularly make the Bishkek-Almaty flight also confirm the fact of strengthening at the border from their neighbors. So do not go in this direction without special need!
Recall that the current president of the Kyrgyz Republic Atambayev canceled his visit to the summit of the heads of the CIS countries in Sochi. The administration of the President of Kyrgyzstan reported on the identified facts of the preparation of mass riots in the republic.