At the naval base "Norfolk", the ceremony of entering the US Navy's fourteenth submarine (SSN-787) "Washington" class "Virginia" took place in the US Navy, reports
TSAMTO
.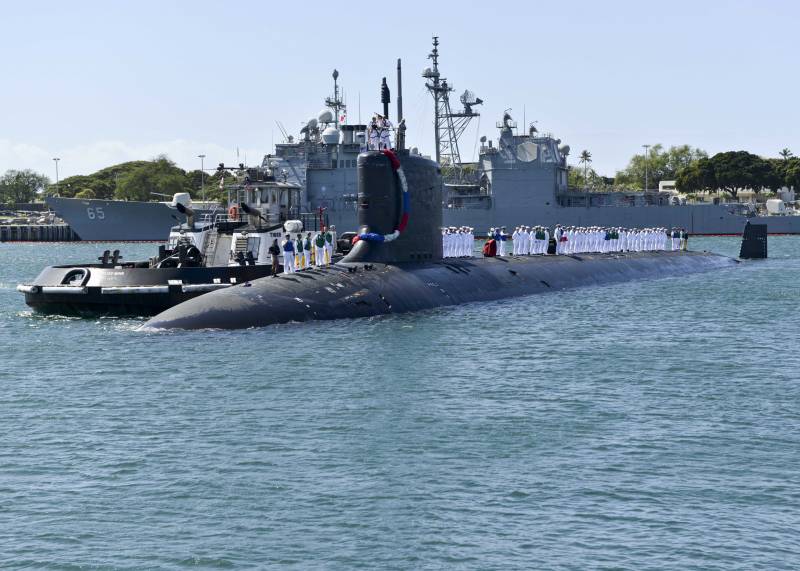 Virginia-class submarines are being built jointly by Newport News Shipbuilding (a division of Huntington Ingalls Industries) and General Dynamics Electric Boat. The cost of one submarine is estimated at $ 2,7 billion.
Construction of the Washington submarine began in September 2011, the keel laying ceremony took place on November 22, 2014, transferred to the US Navy in May of this year.
Virginia-class submarines are "multi-purpose submarines designed to operate at deep and shallow depths, anti-submarine and anti-ship warfare, attack land targets using sea-based cruise missiles (SLCM) of the Tomahawk, asymmetrical combat operations, delivery to the place of operation of groups of combat swimmers, the installation of sea mines, "the material says.
In total for the US Navy, consistently improving combat capabilities, it is planned to build up to the 30 submarine of the Virginia series.
"Washington" is the fourth submarine of the class "Virginia" modification "Block 3".
It is reported that this version is modified by 20% compared to the previous one and "they differ in the redesigned nose to accommodate the hydroacoustic station, as well as two new VPT launchers (Virginia Payload Tube)". They replaced twelve 21-inch individual vertical launch tubes for launching Tomahawk sea-based cruise missiles (TLAMS), which are equipped with the submarines of previous releases.