The media published material that provides some details of the crash of a front-line bomber in Syria. Recall that the Su-24 crashed during takeoff from the Hmeimim airfield in the province of Lattakia. The crew in the face of the commander Yuri Medvedkov and navigator Yuri Kopylov died. The plane, which was gathering a run-up run with an ammunition for strikes against the positions of the terrorists, in the end could not tear itself away from the "take-off" and, rolling beyond its limits, exploded.
Newspaper
Kommersant
, citing its own sources, reports that the Su-24 was in an "unsatisfied position" and "had no chance of getting off the ground."
Management of the press service and information of the main military department of the Russian Federation:
The crew did not manage to eject and died. There are no damages on the ground due to the plane crash.
The article "Kommersant" says that the plane, having done about two-thirds of the way on the runway, was supposed to begin separation from betonka at speeds up to 400 km / h. Indicators in the cockpit showed that the plane was ready for take-off, but as a result, the stabilizer, flaps and slats were not transferred to the "take-off" mode. The crew until the last second tried to lift the car into the air, but the separation did not happen, and at high speed the plane literally took out of the runway. He broke off the front landing gear, got crushed tanks, from which the fuel began to flow. As a result, it ignited, and there was an explosion of ammunition from a front-line bomber.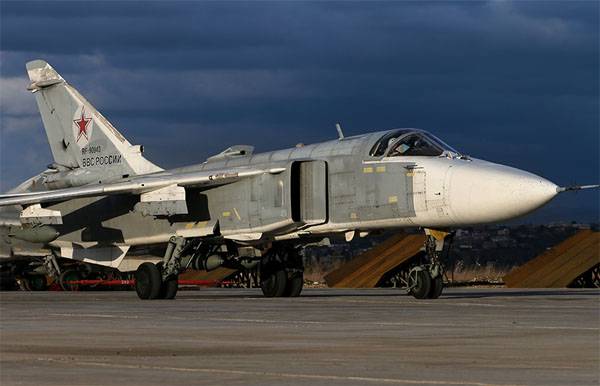 About the specific causes of failure in the systems of transfer of the hardware in the "takeoff" mode is not reported.