The court in absentia arrested four Ukrainians involved in the attacks on Russian diplomatic institutions, said the official representative of the Investigative Committee Svetlana Petrenko.
According to investigators, Vladimir Romantsov, Alexey Bakai and Vladimir Nazarenko were involved in the 2014 attack on the Russian embassy in Kiev. They took an active part in the willful damage to the property of the diplomatic mission, in addition, Nazarenko outraged the Russian flag. Parliamentary deputy Vladimir Parasyuk in March 2016, participated in the attack on the general consulate in Lviv and also desecrated the Russian flag.
- said in a statement SC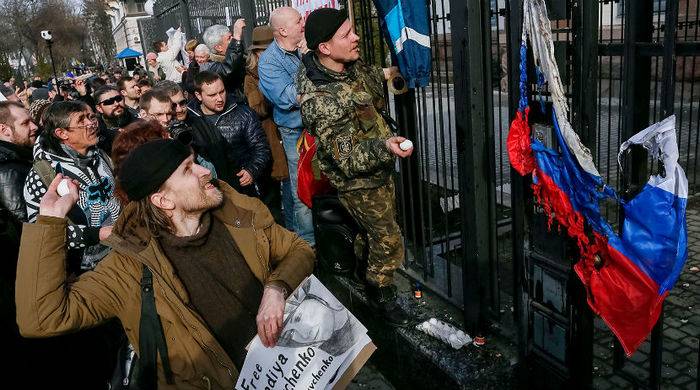 The investigation gathered enough evidence, including videos from open sources and the results of forensic examinations.
- declared Petrenko
Arrest warrants have been issued under the heading "Attacking individuals or institutions who are internationally protected."
Nazarenko and Parasyuk are also accused under the article "Abuse of the national flag of the Russian Federation". They were put on the international wanted list.
As noted by Petrenko, Ukraine has been conducting its own investigations for a long time, but so far not one of the perpetrators has been brought to justice. At the same time, the Ukrainian side actually refused to comply with the requests of the Russian investigation for legal assistance.