The Ministry of Defense of the Russian Federation and the concern "Tractor Plants" completed the tests of the newest infantry combat vehicle BMP-3 "Dragoon", according to
News
.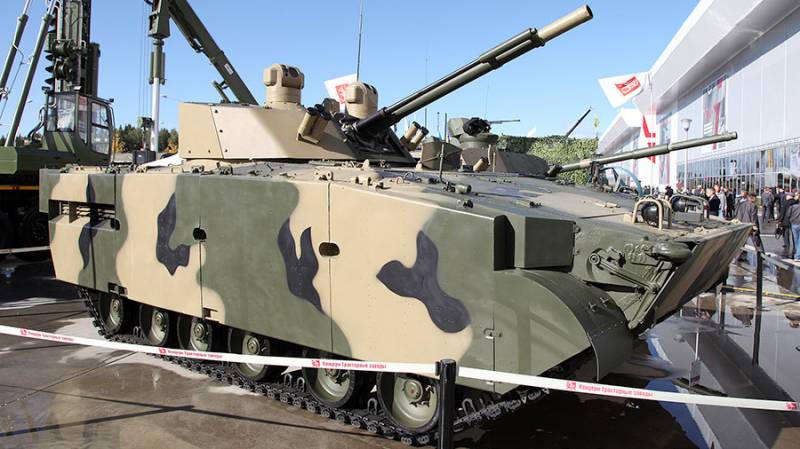 The concern "Tractor Plants" told the newspaper that the BMP-3 "Dragoon" with the engine UTD-32T was ready for production, but refused to comment further.
According to Sergey Suvorov, a military expert in the field of armored weapons, the Ministry of Defense is discussing several concepts for the development of infantry combat vehicles and the installation of various weapon systems on them.
On the BMP-3 "Dragoon" an additional case protection is installed, there is a dynamic and active protection "Curtain". This led to an increase in the total mass of the BMP from 18 to 21 t. This required the creation of a new super-powerful engine for it. At the same time, "Dragoon" not only retained the mobility characteristic of the BMP, but also the ability to independently overcome water obstacles,
told the expert.
He noted that "until recently, infantry fighting vehicles of the BMP-3 family were equipped with UTD-29 and UTD-32 engines with power from 500 to 660 hp." These are atmospheric engines with no turbines in their design. It was with such engines that the vehicles of the Ministry of Defense of the Russian Federation were purchased, exported to Greece. The engine UTD-32T has a gas turbine supercharging, because of which the power is increased by 200 hp. This allows the Dragoon to reach speeds on the highway in 70, and on the water 10 km / h.
Three types of combat modules can be installed on the machine: standard for BMP-3 with 100-mm 2А70 gun and 30-mm automatic 2А72 cannon and 7,62-mm PKTM machine gun or 57-mm uninhabited AU-XNX unit gun, which is uninhabited by the AU-XNX unit gun unit, which is uninhabited by the PKTM machine gun or 220-mm uninhabited AU-XNX unit gun, which is uninhabited by the AU-XNX unit gun unit, the unguided AU-XNX unit gun unit, the XNX machine gun, or the 125-mm machine gun, or the XNUMX-mm machine gun, or the XNUMX-mm or gun XNUMX-mm.
The existence of several types of BMP-3 indicates the search for new concepts for their use on the battlefield. The Ministry of Defense wants to see her almost
a tank
. On the other hand, an infantry fighting vehicle is an infantry vehicle and should not go ahead of tanks or instead of them. She's just a delivery vehicle for infantry and her fire support. Its capabilities should be wider than the armored personnel carrier, it should be able to fight with tanks, but the main task is still to suppress the fire weapons that prevent the infantry from moving forward,
said Suvorov.