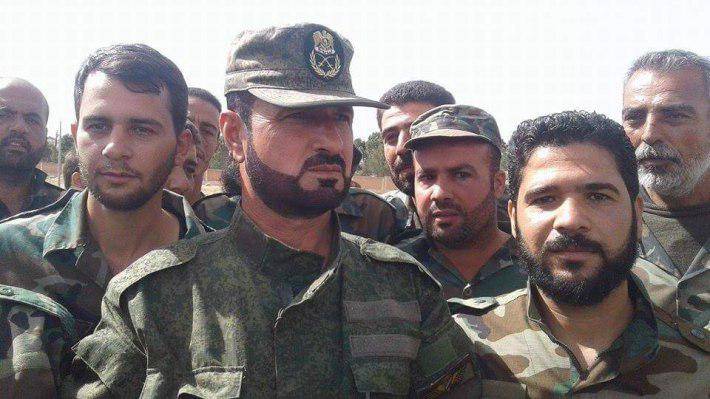 A war can not only kill, but also give birth ... Give birth to a hero-liberator country. For the Syrian people, such a man was General Suhail Al-Hassan, the commander of the elite brigade "Strength of the Tiger".
The government forces, with the support of the Russian Aerospace Forces, are completing the liberation of the Deir Ez-Zor province, the militants are suffering significant losses in Idlib and Raqqah. In fact, the fight against terrorism in the republic is at the finish line and, according to experts, can be completed by the end of the month. In this regard, it's time to remember those who brought this victory closer.
Recently, General Suhail Al-Hassan has become one of the most iconic figures of the Syrian Arab Republic. Fighting for more than six years with radical Islamists, the commander of the Force of the Tiger division did not suffer a single defeat. But successful operations, including the stripping of Aleppo terrorists and the rapid advance to the southeast of the province of the same name, were more than enough.
Now General Suhail's subordinates are "nightmares" of extremists in El Meyadin in the eastern part of the country. The next in line is the city of Abu Kemal, after which the radicals in Syria will have nowhere to retreat.
Asma and Aicham, the parents of a soldier from the Force of the Tiger Brigade, report that during the fighting, Suhail always tries to avoid "unnecessary" losses both from his side and from the enemy. "If there is an opportunity, he always invites the enemy to surrender, but does not spare the one who continues to shoot," Aykham recalls the words of his son.
If we draw analogies with the Russian
history
, in the manner of conducting the battle, Suhale is comparable to the famous prince of Kievan Rus, Svyatoslav, who, before starting the battle, informed the enemy about it (the famous phrase "I am coming for you!").
In Russia, in difficult times there have always been people who saved the country from certain death: Alexander Nevsky, Dmitry Pozharsky and Kuzma Minin, Alexander I and Mikhail Kutuzov, Joseph Stalin and George Zhukov. Syria a few years ago it took its heroes. And General Suhail Al-Hassan - one of those who with honor coped with this role.