From the United States come messages about the measures of command of the Navy of the country after the tragic incident with the destroyer "John McCain". Recall that the American destroyer 21 in August of this year made a collision with a merchant ship Alnic MC near the coast of Singapore. As a result of the 10 incident, American sailors died, five more were injured and injured.
In the press release of the 7th
fleet
The United States reported that the leadership of the US Navy decided to remove the command of the destroyer "John McCain."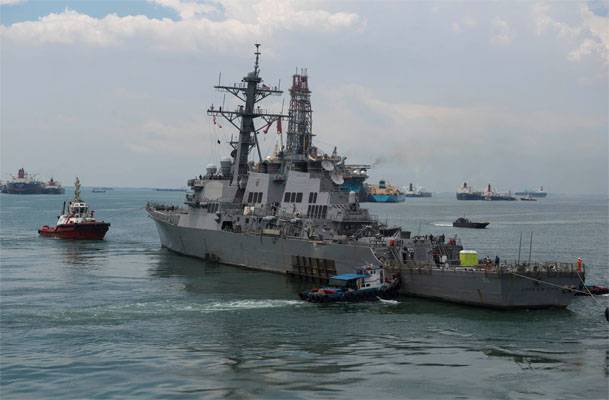 From the press service of the fleet:
Destroyer commander Alfredo Sánchez and senior officer Jesse Sánchez are exempt from their duties on October 11. The corresponding decision was made by Vice-Admiral, commander of the US 7 fleet, Phil Sawyer. The officers lost the trust of the command.
Further, in a press release reported that the investigation into the tragic incident continues. At the same time, preliminary conclusions of the investigation team became known. In particular, it was found that the collision could have been prevented, but the commander of the warship "demonstrated short-sightedness," and the senior officer "unintelligibly led the training programs not a destroyer." There is no information about what exactly the "short-sightedness" of Alfredo Sanchez was expressed.