Why I'm not very interesting
news
about the next contracts of Russia with any country on the supply of missile defense systems and air defense? No, I'm all for it! Our defense industry started making money. It is to earn, and not wait for "allocations" of the budget. You look at the workers of defense enterprises and you are amazed even by external changes. Proud to become. With dignity. Eagles!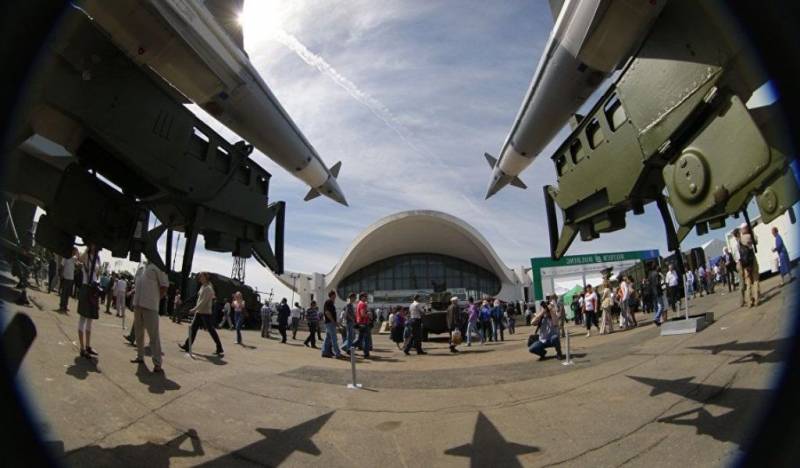 They have a right! I here "picked it up" in my bookmarks. So, according to some experts, Rosoboronexport's order book weighed 48 billion dollars a year and a half ago. This year, again, according to experts, the portfolio has gained weight. Well scored so - over 60 billion! And somehow "go on a diet" does not want.
Remember the very recent meeting of our president with the king of Saudi Arabia? We sat and talked about this, about this. Probably ate together. Subordinates also sat. Also talked about this, about this. And what is the result? As a result, the briefcase was stouter again. The whole world is surprised at him. Maybe with the metabolism of something? And in my opinion, this is not a metabolism, but an exchange of goods for money.
By the way, most readers are confident that the entire visit for the Saudis was limited to the purchase of our Triumphs. Well, and agree on oil. But C-400 is only part of what the king bought. Most, but part. Syria showed everyone not only the strength of the Russian army, but the power of Russian weapons.
Saudi Arabia will now arm its army with our Cornet-EM anti-tank complexes. And also in the list of "wooden friends" are the heavy flamethrower systems TOC-1 "Buratino", AGS-30 grenade launchers, Kalashnikov AK-103 assault rifles. Moreover, the King liked the machines so much that a contract was signed for the licensed production of this
weapons
and ammunition in the kingdom.
What happened a little earlier? Why is Iran behaving so bravely today? Why are the Turks not shy to send "the strongest world army" in ... I do not know how this place is called in Turkish. And the portfolio is to blame. Our "fat man" so affects the leaders and the military of these countries. Infuses, so to speak.
Iran received S-300 from us. And it turned out that with the presence of these complexes, the belligerent fervor of Iran's opponents somehow diminished. Already really thinking about the negotiations. Already considering the Iranian ground forces. On the subject of power and ability to fight. Without a single launch, the S-300 "landed" the American
Aviation
to the ground. They fly around ... More precisely they fly around.
And if you still look early? In 2014 year. Crimea. How well our air defense systems worked to improve the lives of Crimeans. No one wants to fly around the peninsula. Noise no. Ecology ... One word- "Triumph". And if the whole complex of Crimean systems is viewed, then the sea has become cleaner. Any "Yusov" corvettes do not come close.
But back to our portfolio. "Povoroshim" fat man. We'll see to whom he has more calmly made or will make life. Which of our partners "has a heart bleeding" for their own sky, for the purity of their own air.
Chinese. Well, no wonder they are the first economy in the world today. The first and warning in advance. So what? They already get ours, or rather their own already, "Triumphs". And, they say, a decent amount will receive. 3 shelf, i.e. 6 full divisions C-400.
Turks? So far, only made an advance payment. But also they were very concerned about the air over their native country. And do not pay attention to the statements of the Turkish Prime Minister. "We want technology." Well yes. And from a dead donkey's ears. Get it from Pushkin. Our portfolio and will not notice the "loss of a fighter." It will be insulting of course. But not critical.
The Hindus have been "storming" Rosoboronexport for six months on the issue of negotiations on this system. According to my information, back in March, the first messengers appeared. "Give us about five of these" Triumphs ". And we'll give you 6 billions of dollars for that" ... And they will ask C-400 for the briefcase. Fatty they are good. Maybe because the fed.
But very close and the other guys are wandering about. And they also glance at the briefcase. Algeria, Vietnam, Azerbaijan, Egypt, Serbia, Peru, Chile, Nigeria, Malaysia, Indonesia. Prowling and waiting for the Hindu to agree to be the first at the table. And how in such conditions portfolio "go on a diet"?
You know, he does not need to torture the body with these diets. What has grown, has grown. Moreover, the "portfolio obesity" is very beneficial effect on the behavior of yard hooligans. Well, those that live behind the puddle. Previously, they calmly came anywhere, did anything. Established their hooligan laws. They knew that the answer "kids" nothing.
And today we have already begun to think. Is it worth it. Suddenly, the briefcase has already been there and left its "Triumphs"? In the courtyard already some order established. It became quiet. And imagine what will happen when these same C-300, C-400 will be among those whom the hooligans and people did not consider? Represent silence in Asia. Silence in Africa.
"" Mr. Iranian, you stepped on my foot! -Oh, I'm sorry! I'm not on purpose. Forgive, dear! " Or there: "Dear Chinese, please kindly do a favor, please remove your fishermen from the disputed islands! Yes, no question, dear Korean. With our great pleasure. Forgive me if I disturbed your peace!" ...
This is our tricky briefcase. Plump, ruddy and with Russian cunning. Quietly, without noise and din, he took away the right to decide for everyone from the "hobby" hooligans. While not quite, however, selected. Do not have time to put all the complexes. But, again, the guys wander around. They are waiting for the opportunity to agree with the briefcase.
We were yesterday, everyone called the gas station. From TV screens, even now they sometimes "broadcast" on the raw character of our economy. "Russia is sitting on the oil and gas needle!". Yes, for a long time we are no longer sitting on this needle. Peeled off because it hurts on the needle. However, they did not look at the chair where they decided to move. And there is also a needle ... Only not oil and gas, but high-tech. And it does not prick at all.
And if you stop ironic, then indeed, the emergence of Russian weapons in Asian and African markets had a cold shower on world politics. The United States can no longer fearlessly act as the master of the fate of any state. It's one thing to beat an unarmed. Another thing to get a serious otvetku. North Korea showed small states how to besiege Americans.
Koreans find it difficult to buy serious weapons. The country is under sanctions and there is no "extra" money. Therefore, they went along the path of creating nuclear weapons. But those others who have money, but do not want to join a nuclear club, may well get along with serious air defense and missile defense systems. The center of power, about which our "partners" love to talk, is no longer in the United States. At a minimum, this center is divided into two. Moscow and Washington. But there is still Beijing, Delhi, Brasilia ...
I do not know about you, but I like our defenders. Like their products paradoxical action. It seems to be a military product. For war intended. But in fact it comes out - for the world! As Crimeans live in peace today, so will citizens of Asian and African countries live tomorrow.
And let the portfolio get fatter. This is for him to face, and to our advantage. For all of us...