Two Ukrainian security officials were killed, nine were injured in the Donbass as a result of the shelling of the Ukrainian security forces by the militants of the Right Sector, deputy head of the operational command of the self-proclaimed Donetsk People's Republic, Eduard Basurin, said on Tuesday.
On the night of 8 on 9 of September, the Right Sector opened fire with mortars, rocket launchers and small
weapons
on the 92 servicemen of a separate mechanized brigade, who took the location of the militants in the ring. As a result of the shelling, units of the Armed Forces of Ukraine suffered casualties: two killed and nine wounded. Wounded transported to Vinnytsia Regional Hospital named after Mechnikov
- he said.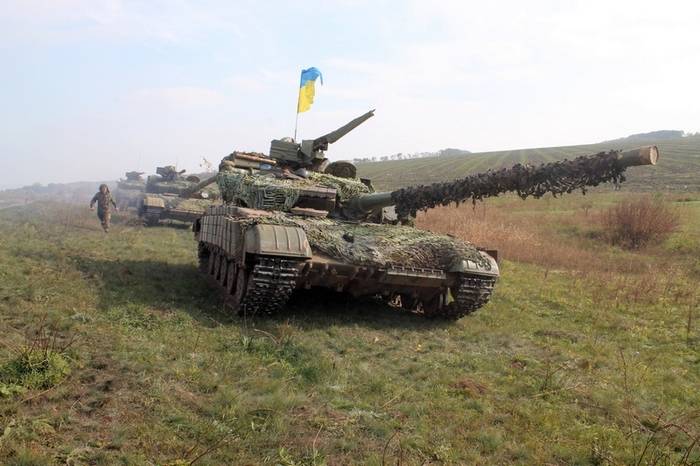 "Right Sector" - Ukrainian association of radical nationalist organizations. In January and February, 2014, militants of the movement took part in clashes with law enforcement officers and seized administrative buildings, and since April, in suppressing protests in eastern Ukraine. In November 2014, the Supreme Court of the Russian Federation recognized the right-wing radical association as an extremist organization and banned its activities in the territory of the Russian Federation. In January 2015, the Right Sector was entered in the register of organizations banned in the Russian Federation.
Also over the past day, the VSU released almost 90 mines in the frontline areas of the DPR.
In Donetsk, the enemy applied mortars, weapons of infantry fighting vehicles, various types of grenade launchers and small arms. In areas of 11 settlements, 20 mines of 82 mm caliber are produced. On the Mariupol direction, the enemy released nine mines of the 120 caliber mm and 58 mines of the 82 caliber mm
- stated in the headquarters of the operational command of the DPR
According to Basurin, during the shelling, the Ukrainian security forces also used weapons of infantry fighting vehicles, grenade launchers and small arms.
The right-wing sector * is an extremist organization banned in Russia.