Today in Sochi, a meeting of the Council of Foreign Ministers of the CIS countries (Commonwealth of Independent States) was held. Official representative of the Ministry of Foreign Affairs of Russia Maria Zakharova commented on the general photo of the heads of delegations against the background of state flags. The photograph shows the Ukrainian flag, which Maria Zakharova spoke of as the "most constructive representative" of Ukraine.
Photo
press service
CIS Secretariat: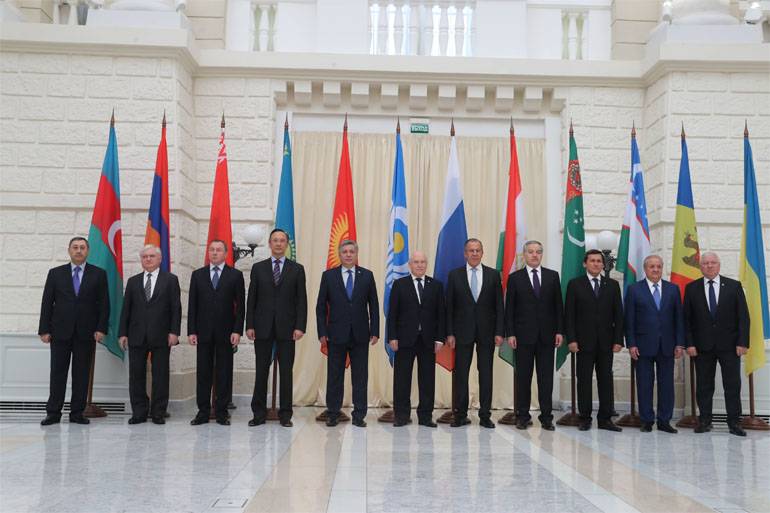 Maria Zakharova in
Facebook
recorded the following:
A meeting of the Council of CIS Foreign Ministers began in Sochi. Ukraine sent the most constructive representative - the banner.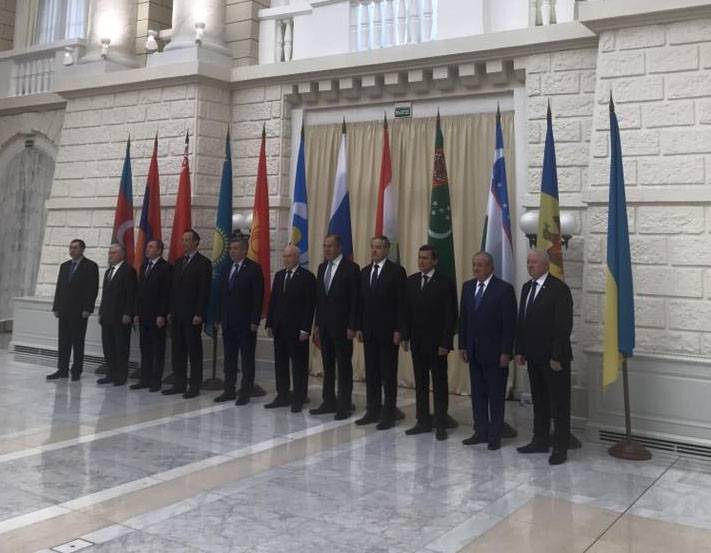 Recall that Ukraine de jure continues to be a member of the Commonwealth. In November, 2016, a bill on Ukraine's withdrawal from the CIS was submitted to the VRU. However, the final decision has not yet been made. And it is not accepted for the simple reason that being in the CIS (even despite the protocol not ratified by the Rada) allows Ukraine to enjoy certain economic benefits when trading with other countries of the Commonwealth.
The agenda of the meeting of foreign ministers of the CIS countries in Sochi included several important issues, including discussion of the topic of the joint fight against terrorism and extremism, as well as the topic of economic interaction within the organization.
From the press service of the organization:
The meeting discussed a set of organizational and practical measures aimed at adapting the CIS to modern realities in the context of increasing the efficiency of the statutory and sectoral bodies of the Commonwealth. The meeting participants approved the General Regulation on the procedure for holding a competition for filling vacant posts in the bodies of the Commonwealth.

The draft documents will be submitted for consideration by the Council of Heads of State of the CIS, whose meeting will be held on October 11 2017 in Sochi, as well as on the meeting of the Council of CIS Heads of Government scheduled for November 3 2017 in Tashkent (Republic of Uzbekistan)