Leading the offensive in Deir ez-Zor with the support of the Aerospace Forces, Syrian government forces faced the fact that, having lost their economic infrastructure, they continue to receive massive reinforcements from Iraq, where terrorists must have enough of their headaches because of the air strikes of the international coalition led by the United States .
However, in fact, as stated by the Ministry of Defense of the Russian Federation, the coalition significantly reduced the number of air strikes against terrorists in western Iraq and, in fact, only imitates the fight against the "Islamic State" *. Meanwhile, the IG * continues to seize new territories in Iraq.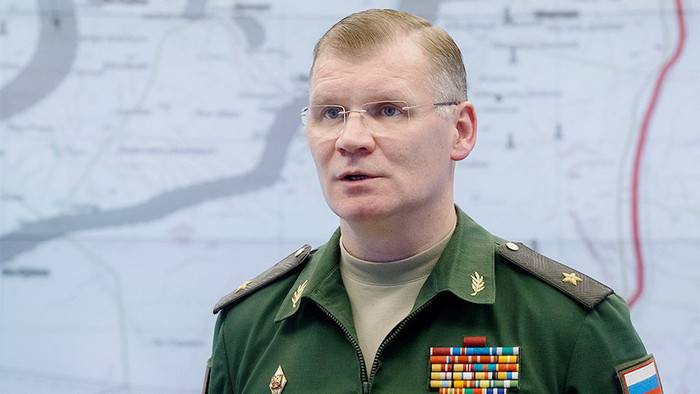 In this regard, the Russian military department demanded clarification from the US-led coalition: are the allies thus trying to complicate the operation of government troops in the province of Deir ez-Zor, or, as the Ministry of Defense ironically notes, they intentionally drive terrorists under the deadly blows of the Russian
aviation
?
According to Konashenkov, if we analyze the openly published statistics of the Pentagon on aviation departures in the framework of the fight against IS *, "you do not need to have profound knowledge of military affairs to see strange changes." Thus, the representative of the Ministry of Defense continues, with the beginning of the Syrian troops operation in Deir ez-Zor in September, an international coalition led by the United States sharply, to several times a day, reduced the intensity of attacks on ISIS * in Iraq, "having done almost five times less strikes than Syria. "
This reduction in the intensity of strikes in Iraq in a strange way coincided with the transfer of ISIL * to Deir ez-Zor from the border areas of Iraq by the large terrorist forces that are now trying to gain a foothold on the eastern bank of the Euphrates. The US-led coalition that imitates the fight against ISIS *, primarily in Iraq, sees all this, but continues to pursue an active struggle against ISIL * for some reason in Syria
- noted the representative of the department.
At the same time, the Major General notes, the release of Raqqa, now remaining deep in the rear, which the US and the coalition for half a year called the main priority of the fight against ISIL, has stopped.
The actions of the Pentagon and the coalition require, according to him, whether the change in priorities of the US and the coalition is to maximally complicate the operation of the Syrian army with the support of the VKS to liberate Syrian territory east of the Euphrates or the opportunity to free Iraq from terrorists, reports
RIA News
.
"Islamic State" * (IG *) is a terrorist group banned in Russia.