The exercise of the Collective Rapid Reaction Forces of the CSTO member states began in Armenia, which will last 5 days, reports
press office
Southern Military District.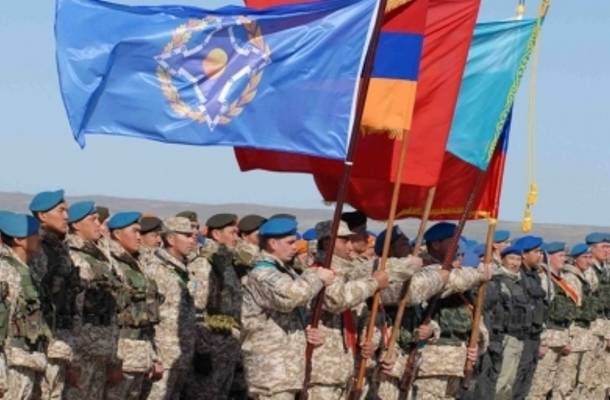 The practical actions of the Collective Rapid Reaction Forces (CRRF) troops of the States Parties to the Collective Security Treaty Organization (CSTO) during the joint exercise "Interaction - 2017" will be worked out at two test sites: Bagramyan of the armed forces of the Republic of Armenia and at the Alagyaz training ground of the Russian military base in Armenia,
says release.
It is reported that "in total, about 2 thousand troops, more than 400 units of military equipment and more than 20 aircraft of the Air Force of the Republic of Armenia and the Russian military airbase Erebuni" will be involved in tactical operations at the Alagyaz and Baghramyan test sites.
"The infliction of preventive fire damage at the advancing and deploying enemy, the strengthening of the troops covering the state border will be carried out by the rocket and artillery batteries of the Russian military base with the support of motorized rifle and
tank
divisions. Covering firing positions and tactical maneuvers from an air strike of a simulated enemy will be provided by the MiG-29 fighters of the Russian airbase stationed at the Erebuni airfield, "the press service said.
In the second episode, special forces units of the armed forces of Armenia, Belarus, Kazakhstan and Russia will take part. Tactical airborne assault helicopters will deliver Mi-8. To destroy the sabotage reconnaissance of the "enemy", Russian paratroopers will parachute into the state border and attack a conditional enemy from the rear.
"The third tactical episode will be decisive in the defeat of an illegal armed group. Together, the motorized infantry and paratroopers during the defensive battle will work off the attacks of the conditional enemy. The Mi-24 attack helicopters and Su-25 attack aircraft of the Armenian Air Force and the Russian Erebuni airbase will provide fire support from the air, "the message said.
These maneuvers will be the most ambitious stage of the exercise and will allow in practice to work out the interaction of heterogeneous forces of the armies of the five states.
It is noted that the "joint exercise" Interaction-2017 "is carried out in the framework of a single vision of the operational-strategic exercise" Combat Brotherhood-2017 "of the collective rapid reaction forces (CRRF) of the Collective Security Treaty Organization (CSTO)". During the practical actions rally at the Alagyaz proving ground, units of the armed forces of 4 states will work out three tactical tasks.