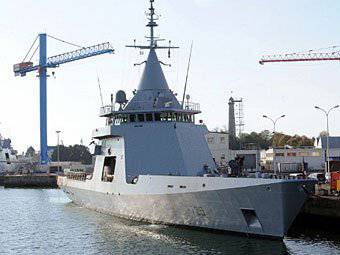 The French Navy 19 March adopted the experimental corvette "L'Adrua", the lead ship of the project "Govind". Reports about it
Lenta.ru
with reference to the site of the French Navy.
Sea trials began at the end of July 2011. October 21 2011 of the French company DCNS has transferred a new corvette to the French Navy to conduct tests in real conditions. As reported on the website of the Navy, "L'Adrua" will be used for the inspection of fishing vessels, the fight against drug trafficking, as well as in humanitarian and search and rescue operations.
"L'Adrua" has a displacement of 1450 tons and a length of 87 meters. The Corvette is able to reach speeds up to the 21 node, travel up to 14,8 thousands of kilometers and be in autonomous navigation for 220 days.
The crew of the ship is designed for 30 people. Additionally, up to 30 passengers can be accommodated on board. In the French Navy for the "L'Adrua" prepared two teams that will replace each other every four months.
The design of the corvette allows you to place unmanned aerial vehicles on the deck. In the armament of the ship can be anti-aircraft missile launchers of various types, anti-ship missiles and machine guns.
As part of the Govind project, DCNS plans to produce corvettes of various sizes and with different weapons: Govind-120, Govind-170 and Govind-200.