Residents of Greece are particularly positive towards Russia and Vladimir Putin, who is trusted more than other world leaders, but still prefers Europe, according to a study conducted by a group of sociologists at the University of Macedonia for the newspaper Katimerini.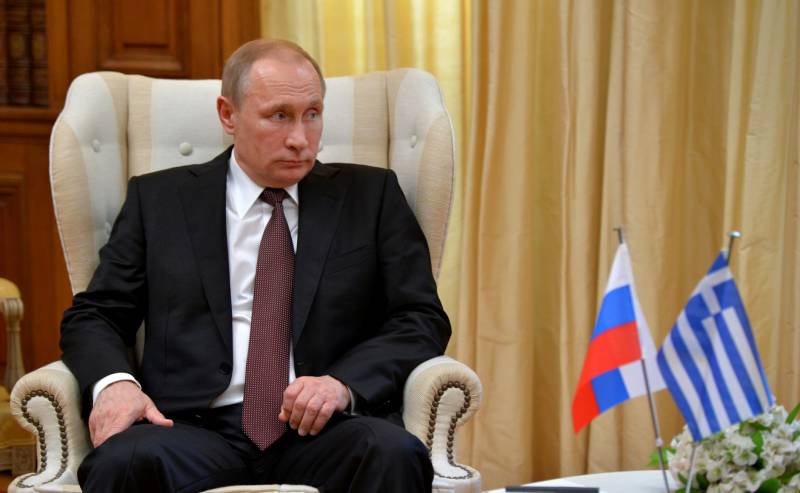 "57,3% of Greeks have a positive attitude towards Russia. Even more positive are the views on Russian President Vladimir Putin - a positive opinion about him in 67% of respondents, "the article cites.
RIA News
.
According to the newspaper, "Putin is significantly ahead of German Chancellor Angela Merkel, who is favorably 40,5% of respondents, and American President Donald Trump with 16,5% of votes."
25% of respondents are negative about Putin, dislike Merkel - 56%, Trump - 73%.
To the question "which of the world leaders do you trust more," Putin's share was 41,5% of answers, Merkel's 27,5%, and Trump's share was only 5%.
The fact that the Russian president "supports the interests of Greece" is sure 43,5% of respondents compared to 29,5% of the German Chancellor and 20% of the American leader.
However, "Greek society seems to be very cautious about certain issues," the newspaper notes.
The majority of those who voted (59,5%) believe that "democracy does not work effectively" in Russia and there is no respect for human rights (51,5%). In these matters, the European Union won a convincing victory.
The Greeks do not want to study in Russian universities. "When choosing a country for training, 68% of the inhabitants of Greece would choose the EU and 23,5% - the USA". Approximately the same result was obtained when choosing a place of work: 65% would choose the EU and 21% - the United States. The share of Russia had very little - 3,5% and 4%, respectively.
According to the survey, Greece should, first of all, strengthen relations with the EU (47,5%). For strengthening ties with Russia and the United States voted 24,5 and 7,5% respectively.
As the newspaper noted, "on the basis of a survey, it is impossible to unequivocally answer the question whether the Greeks are Russophiles or a pro-European nation." Therefore, the authors called their article "The Heart in Russia, the Mind in Europe".
A total of 1023 people were interviewed across the country from the age of 17. The error does not exceed 3,1%.