Russian squad was eliminated in Syria by a detachment of foreign mercenaries numbering more than 60 militants, immigrants from the CIS, Tunisia and Egypt south of Deir ez-Zor, said Major General Igor Konashenkov, an official spokesman for the Russian Defense Ministry.
South of Deir ez-Zora in the Euphrates River Valley, a detachment of foreign mercenaries with more than 60 militants, people from the CIS, Tunisia and the Arab Republic of Egypt was eliminated by air strike. Also destroyed 12 SUVs with large-caliber weapons
- said the general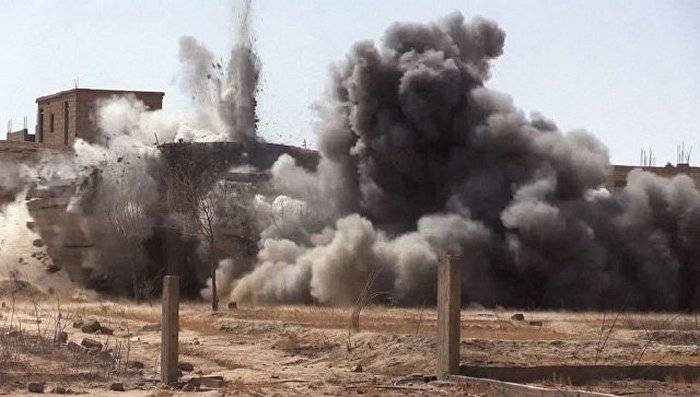 Konashenkov also reported that the VKS attacked in the area of ​​Abu Kemal, where intelligence found militant concentrations and their command posts, as well as advance routes to Meyadin and to the southern outskirts of the left-bank part of Deir-ez-Zor. There was destroyed a stronghold and about 40 militants, people from Tajikistan and Iraq, as well as seven vehicles with heavy machine guns.
In the area of ​​Meyadin, order 80 militants were destroyed, including nine immigrants from the North Caucasus, 18 off-road vehicles with large-caliber weapons and three ammunition depots.
We remind you that earlier Konashenkov reported on the liquidation of influential field commanders of the Islamic State terrorist group * - people from the North Caucasus who had been hiding in Iraq for a long time.
According to him, in the past few days, additional exploration was conducted of the results of the attack inflicted on the VKS near the village of Es-Sukkariya on the northern outskirts of the city of Abu Kemal near the Syrian-Iranian border. This strike destroyed the control point of the IG * and more 30 militants, including those from the North Caucasus.
According to information received through several channels and confirmed "on the ground", among the liquidated militants are influential field commanders Abu Omar ash-Shishani, Alyauddin ash-Shishani and Salahuddin ash-Shishani,
- declared Konashenkov.
He stressed that the elimination of terrorists will continue.
The Islamic State * (ISIL *) is a terrorist group banned in Russia.