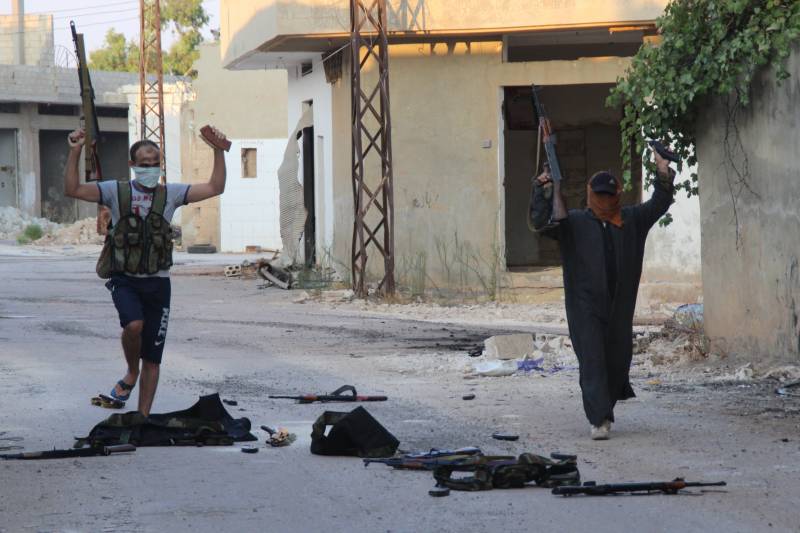 For several days now, your humble servant (Riyadh Farid Hijab) is located in the cradle of civilization, the oldest city in the world - Palmyra. One of the favorite places of my native Syria will be forever remembered by me as an open-air museum, which, to the deepest sorrow of all mankind, was destroyed by terrorists who invaded from Libya, Iraq, Afghanistan and other states.
What should be in the head of a person shooting a machine gun at architectural monuments and smashing ancient statues with huge hammers just for fun?
It was with such thoughts that I walked through the streets of glorious Palmyra. However, my philosophical thoughts were suddenly interrupted by screams and incomprehensible fuss. Having made my way through the crowd, I saw an unhappy woman who, in tears, ran down the street away from numerous onlookers, trying to escape from the epicenter of events.
Local residents observed the detention of three dirty, overgrown people, apparently from whose clothes on the roadway cartridges, syringes and ampoules filled with liquid spilled out.
One of the criminals suddenly tried to escape, but not for the sake of flight: he fell to his knees and, in hysterics, began to ask for forgiveness. His prayers were interrupted by the cry of the second prisoner, who in a matter of seconds promised to take revenge on the whole of humanity for the death of several hundred of his fellow Afghans who died yesterday from the bombs of the Russian Aerospace Forces airplanes in the Kharmoshiya region.
However, the "circus" did not last long: our defenders from President Assad's army more than professionally did their job. Militants were immersed and taken away in a known direction.
In general, obscure
история
I found an interesting continuation for me. The woman who ran in tears was a friend of my neighbor, who, in turn, told me her sad story.
The day before yesterday, she called up with her son, who told everyone that she was working on oil fields in the Deir Ez-Zor area. After all, it was there that he was invited to work by once respectable gentlemen who practically did not speak Arabic.
The last time he called his mother from the village of El-Qasr, a couple of minutes of conversation, the detainee in Palmyra managed to report that his leadership had almost completely stopped paying money, and many of his companions were going to flee to Iraq. He, along with several "colleagues" wants to go back to Palmyra.
What was it like for a mother to find out what her son actually did ?! After all, the drama of the situation consisted in the fact that in different years the father and brother of this woman died from the bullets of militants. Moreover, in the past year, her husband, the terrorist's own father, was indicatively executed by the same fake oil producers from Dair Al-Zor.
About the Author:
Riyad Farid Hijab (1987 r.). Born in the Syrian city of Aleppo. He graduated from St. Petersburg State University. In 2017, he returned to Syria, in his native city.