Russian Prime Minister Dmitry Medvedev held a meeting with Salman bin Abdul Aziz al-Saud, King of Saudi Arabia on a state visit to Russia today. The talks focused on resolving the conflict in Syria, as well as on the situation in the Middle East as a whole. Saudi king for the first time in
stories
arrived in Moscow, said that the settlement process "prevents Iran."
Al Saud:
Your Excellency, Prime Minister Dmitry Medvedev! Thank you for your warm welcome. (...)
The key to solving problems in the Middle East is Iran. This is a bad neighborhood. For conflicts to come to naught, all that is needed is for Iran to stop pursuing a policy in the spirit of confrontation, to adhere to good-neighborly relations, and respect the rule of law.
Then the king of Saudi Arabia touched on the issues of oil regulation. According to al-Saud, he is very pleased that Saudi Arabia and Russia have managed to achieve a balance in the global oil market.
For reference: Russia and Saudi Arabia for two produce about a quarter of all the volume of world oil entering the market.
The king of SA spoke about Palestinian issues:
We also said that it is necessary to end the suffering of the Palestinian people and to achieve a just, comprehensive solution to the Palestinian problem.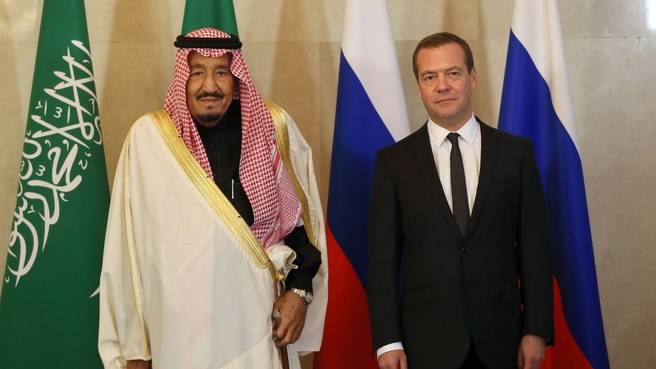 Dmitry Medvedev said that he was very pleased with the visit of the Saudi king to Russia and the agreements reached during this visit.
Recall that the visit of the King of the SA will last until October 8. Saudi king lives in a hotel in the center of Moscow, the cost of the number rented by him in which per day is about 1 million rubles.