American perspective convertiplane V-280 Valor during ground tests for the first time launched the engines and rotated propellers. According to
Breaking Defense
These checks were considered successful. They were carried out as part of the preparation of the aircraft for the first flight, originally scheduled for September 30, but then postponed.
V-280 is being developed as part of the FVL tender as a new army transport aircraft designed for the rapid transfer of fighters and cargo over long distances. According to the requirements of the military, such a device must be capable of vertical takeoff and landing. The tender also involved a consortium Sikorsky / Boeing, creating a high-speed helicopter SB-1 Defiant.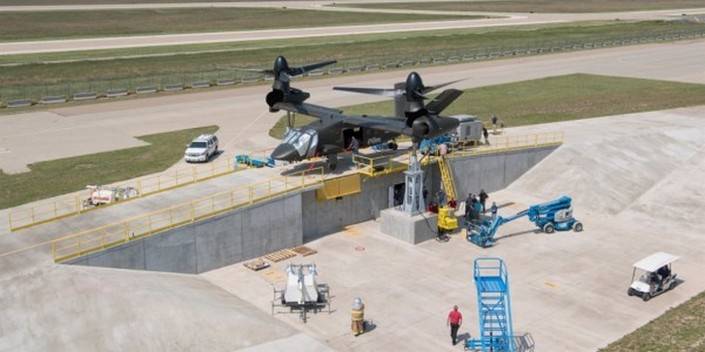 During the first engine start, the promising convertiplane V-280 was securely fastened to the platform on the ground. This was done in case of a possible failure in management, in which the device could take off. In the near future, preparations will be made for the first detachment from the ground, during which Valor will also be tied to the ground.
Bell Helicopter presented the draft of the convertiplane Valor in the spring of 2013, and its ground tests began at the end of July, 2017. It is expected that this unit will be able to fly at speeds up to 519 kilometers per hour, and its combat radius will be 1,5 thousands of kilometers. The V-280 engines will be stationary: when moving from helicopter to airplane mode, only the propellers will be tilted.
The United States today is still the only country that has armed converters - V-22 Osprey, developed and produced by the Bell / Boeing consortium. In July, 2015, the five convertible plans Osprey acquired Japan. The military of this country liked such devices due to maneuverability, speed and undemanding to the landing sites.