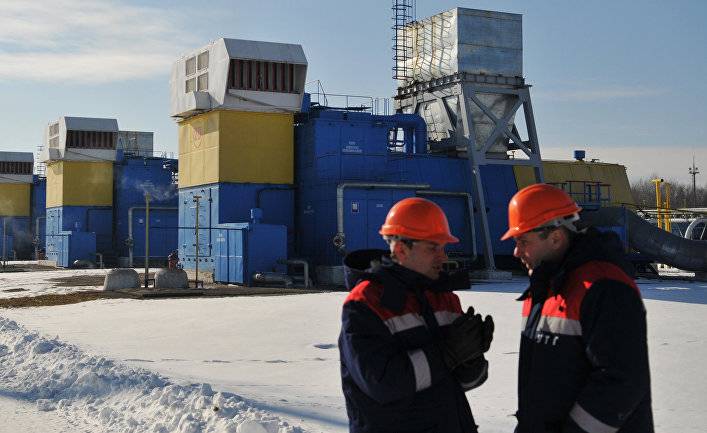 If Russia stops exporting its energy resources through the territory of Ukraine, there will be a hole in the economy of this country that neither Europe nor the United States will be able to patch.
Yes, 2019 year is very important ...
For several years now, Russia has consistently and unequivocally warned Ukraine that it intends to stop using its territory as a transit route for the supply of energy resources to Western markets. If Moscow keeps its word, such a hole will open in the Ukrainian economy that neither Europe nor the United States will be able to patch.
I am amazed all the time by analysts who are developing heaps of plans, intending to expand Ukrainian geopolitics in a western direction and include Ukraine in the security architecture of the Euro-Atlantic world, and at the same time believe that Russian-Ukrainian economic relations will remain unchanged. In 1990, this was quite a reasonable assumption, because Russia had no choice, and it had to use the infrastructure of the Soviet era, since it did not have the means or the capacity to create alternatives. Thus, the balance in the economic and security sphere that developed after the collapse of the Soviet Union was quite reasonable. Russia had to support Ukraine (mainly due to the energy resources that Moscow sold to Kiev at below market prices) in order to have a guaranteed opportunity to supply the rest of the oil and gas to European consumers at higher prices that they were satisfied with.
But such a situation could not survive for a long time, and we have already seen how Russia and the Baltic states, based on their own security interests, changed the conditions of the deal concluded between them. The Baltic countries began to look for alternative sources of supply and took very painful short-term measures to reform their economies in order to abandon cheap Russian energy resources and raw materials that were like drugs to them. When Russia realized that Latvia, Lithuania and Estonia would join NATO and the EU, it created a completely new export infrastructure in the north of the country, the center of which was the area of ​​St. Petersburg. Thus, Russia has eliminated its dependence on the Baltic infrastructure.
Both the heroine of the Orange Revolution, Prime Minister Yulia Tymoshenko, and the villain of the orange and Maidan revolutions, President Viktor Yanukovych, perfectly understood the dangers that threaten Ukraine, and sought to conclude long-term agreements with Moscow, in which Russia continued to use transit through Ukraine, since it cost it is cheaper than building new bypasses north and south of this country. To sweeten the pill and thwart the efforts to translate the Black Sea
fleet
in Novorossiysk, Yanukovych signed a long-term lease agreement that allowed Russian sailors to stay in Crimea.
However, after the Maidan revolution, Russia again took up the development and implementation of a plan to abandon Ukrainian transit. Despite Western sanctions, regulatory and legislative efforts of the European Union, as well as a brief quarrel with Turkey after she hit a Russian plane at the end of 2015, Russia flew over the Turkish-Syrian border, Russia did not abandon these efforts. She strongly and regularly says that she intends to switch to other export routes in 2019.
At first glance, this is not a problem for Ukraine, since it has vividly demonstrated its ability to buy gas, oil and coal from other countries, and the gas is supplied to it by Western European partners, and the coal is delivered by the United States. However, such supplies are very costly for the weakened Ukrainian economy. And when Russia stops paying for transit, for Kiev this will be a real shock. The State Energy Company of Ukraine will remain with a huge network of pipelines, storage facilities and pumping stations, and it will have to look for new customers. It is possible that some energy resources will go to Europe from the Caucasus from the Caspian region along the Odessa-Brody route, but this transit will not be able to fully compensate for the losses. Perhaps Ukraine will be able to increase the extraction of energy resources within the country. However, foreign companies will not want to invest their money there until a lasting peace reigns in the east of Ukraine and the Crimean issue is not resolved. In addition, the Ukrainian government will no longer be able to repeat its previous tricks that it has been doing in the past decade, imposing all kinds of exorbitant conditions on foreign energy firms, including the requirement to sell energy to local consumers in large volumes and at low prices. It is also possible that if Russia ceases to use the Ukrainian transit, the conflict in the east may flare up with a new force. It is noteworthy that Eastern Ukrainian separatism did not manifest itself in those areas of the country through which the gas pipelines pass. But things can change after 2019.
Maroc Sefcovic, the European Commissioner for Energy, is trying to force Russia to continue using Ukraine as a transit route, but this strategy is doomed to failure. Turkey no longer has any incentives to act in the interests of the European Union, and after the recent visit of President Vladimir Putin to Ankara, Turkish leader Recep Tayyip Erdogan reaffirmed that the accelerated construction of the Turkish Stream pipeline is a priority for his country. There are several reasons for this. Firstly, Turkey will be guaranteed to receive Russian energy resources that will bypass Ukraine, and secondly, it will be able to become an alternative transit country for Russian energy resources supplied to the markets of Southern and Central Europe. Despite her personal dislike for Putin and mistrust of the Kremlin's plans, German Chancellor Angela Merkel is committed to ensuring the energy security of her country, as well as the security of German investments in Russian energy projects that will help build the second Nord Stream pipeline in a timely manner. The new sanctions imposed by the US Congress contain provisions that prevent Western banks from financing the construction of new pipelines. However, European firms may follow the example of the French energy corporation Total. When the European Union introduced the first package of sanctions against Russia because of its actions in Ukraine, Total decided not to leave the profitable gas project on Yamal and turned to Chinese sources for funding. Gazprom, planning its actions to abandon the Ukrainian transit, is thinking of increasing supplies to Azerbaijan, which in turn will be able to roundaboutly supply these energy resources to Europe via the Trans-Anatolian Pipeline. Azerbaijan is unlikely to refuse such a proposal, since it will allow it to increase the volume of supplies to Europe.
Separately, it should be noted that the need to fully load this pipeline will put the United States in front of an unpleasant geopolitical choice. If Azerbaijan does not use Russian gas, the likelihood that Baku will open access to its pipelines to Iran will increase, and in this case, Tehran will get new markets and unhindered access to Europe. On the other hand, the United States will have to enter into a big game with China in order to decide for its own benefit whether Turkmen gas will go: east to Beijing or west.
All this suggests that the careless statements of Western analysts about the possibility of blocking Russian plans are not based on sufficient grounds.
Ukraine has a deadline - 2019 the year when the construction of new pipelines should be completed, and the Russian-Ukrainian gas transit contract will expire. It's time to think about such a policy that will ensure Western interests and will contribute to their promotion; but one should not assume that Russia will continue to pay bills.