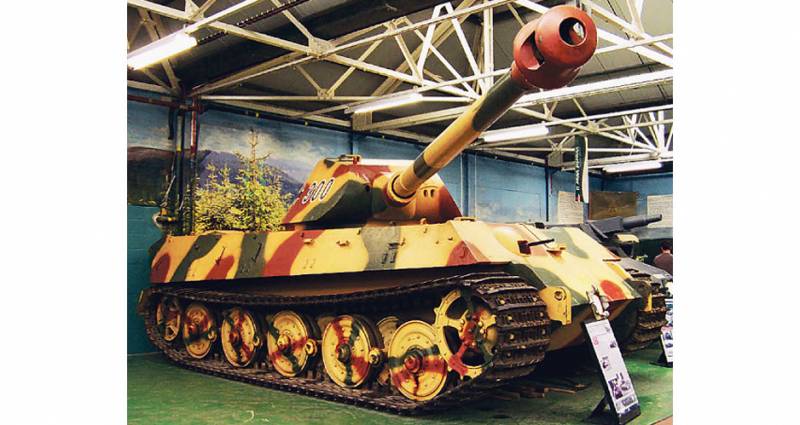 The article indicates the date of the front baptism of the "Tiger II" - 13 August 1944 of the year. However, in the journal of hostilities (VBD) 53 th Gu. TBR means that the first three "Royal Tigers" were hit a day earlier, namely 12 of August. There was a witness confirming this date - my friend.
In 1955, I worked in the garage of Peat Transport in Orekhovo-Zuev, and we had Alexei Zaitsev, a participant in the Battle of Kursk, as a mechanic. Under Prokhorovka on July 12, 1943, he, a T-70 driver, was seriously wounded. After prolonged treatment at the hospital, he ended up in the 53rd Guards. TBR 3rd TA for "easy after injury" work - refueling
tanks
Fuels and lubricants. There he was an eyewitness to the debut of the Royal Tigers on the Eastern Front.
According to Alexei Dmitrievich, the night of August 12, 1944, passed relatively calmly, and in the morning he and his comrades were going to celebrate their 20 anniversary. Suddenly, in the morning haze, the fighters saw huge tanks similar to the "Panther" crawling on the hollow from the Oglenduv 14. As Zaytsev used to say, "it was thought — on the arc he survived, but these slammed." But rescued all the gunner T-34-85 Abubakir Merhaidarov. He did not agree with the tank commander and said that he saw "Panthers" in the sight, whom he had already hit. And vmazal three tanks in the side. When they caught fire, the rest turned back to Ogleduv. In the middle of the day, when there was a temporary lull, Abubakir told Zaitsev details.
Toward evening, the German tanks attempted to return, but they were met by the approaching ISU-152 regiment, which gave the Nazis a good bashing.
On the night of August 13, two tanks 3-th TB (battalion commander Mazurin) 53-th Gu. The TBR with a company of machine gunners (according to Zaitsev - penalty box) took Ogleduv, cleared it of the Germans and only then captured documents and a working tank showed that it was not the "Panthers", but the newest Konigstiger.
There is an excerpt from the RCB 53 th Gu. TBR 6-th Gu. TC 3 th Gu. TA: "12.08.44 g., 8.30. In 7.00 from Oglenduwa, 14 tanks and two armored personnel carriers launched an attack on a nameless height east of Oglenduwa. The attack of the enemy was repelled. Tanks in the combat area - 9. Damage to the enemy - 3 tank ("Panther"). "
But the report in 6-th Guards. TK: "13.08.44 16.00. Captured T-VI tanks ("King of Tigers") - 5 with broken tracks (2 tanks will be restored) ".