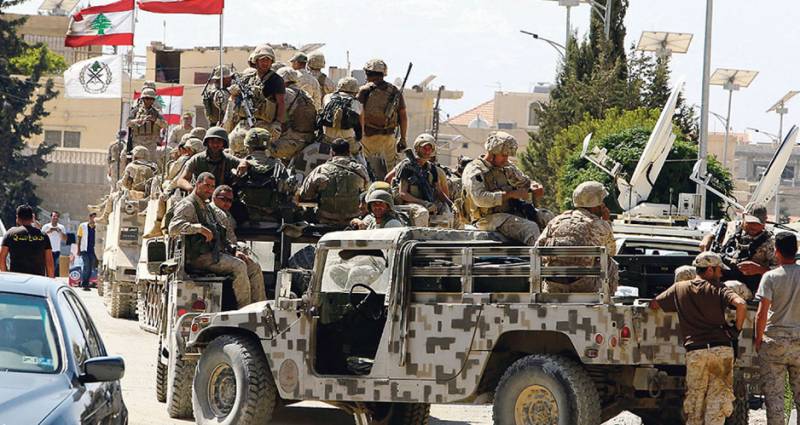 More than 15 years Lebanon was engulfed in civil war and did not have a single armed forces. Currently, they have been restored, but remain the weakest in the region, both in quantity and quality. This applies particularly to the Air Force and Navy, purely symbolic in essence.
Ground forces are divided into five territorial commands: "Bekaa" (headquarters - Ablakh), "Beirut", "Mountain Lebanon" (Fayadiya), "North" (Tripoli), "South" (Sayda). They include five heavy (1 – 3-I, 5, 6-I) and six light brigades (7 – 12-I), as well as the Republican Guard, transport, support, regiments: 1-i armored, construction, 1- frontier, 1 and 2 artillery. There is the command of the SSO, which included regiments of commando, airborne troops, combat swimmers and six anti-terrorist.
Tank
The fleet includes 66 American M60A3 and from 92 to 140 M48A5, up to 180 Soviet T-54. Other armored vehicles: 74 French AML-90s, 10 modern Italian LMVs, up to 89 old English Saladins, 22 Dutch AIFV-B-C25 infantry fighting vehicles, 8 American M2A2 Bradley, up to 1430 M113A1 / 2 armored personnel carriers of the same origin, French armored personnel carriers VAB-VCI (86) and VAB-VTТ (17), VBTP-MR (10), up to 30 Portuguese Chamit. Artillery: 34 American self-propelled guns M109A3, more than 300 towed guns (18 American M102 and M114A1, 195 M198, 33 Soviet M-30 and 9 D-30, 16 M-46, 14 French Model-50), 271 mortars (134 - 81-mm, 112 - 82-mm, 10 French MW-50 and 15 MO-120), 11 Soviet MLRS BM-21 Grad. ATGM - 52 French "Milan" and American "Tou", 2 self-propelled "Mephisto" (French "Hot" on BTR VAB). Ground defense includes 83 Soviet MANPADS "Strela-2" and 80 anti-aircraft guns, including 57 ZU-23.
The Air Force has Hunter English combat training aircraft (4 Мk3А, 70 Мk1С), 66 training "Bulldogs", 3 American reconnaissance Cessna AC-2. The combat capability of obsolete British cars is extremely doubtful. There are also multi-purpose helicopters (208 European AW1, up to 139 French SA10L), and
transport (mainly American - 3S-61N, up to 27 UH-1H, 4 R-44, and also up to 13 Romanian IAR330SM).
The Navy consists of 11 sentry and 2 landing craft.
With the exception of the AW-139 helicopter, the entire technology of the Lebanese Armed Forces is very outdated and does not meet modern requirements at all. Therefore, in any Middle Eastern clashes, Beirut does not have the opportunity to participate. There is a UN contingent of more than 6 thousand people in the country.
In Lebanon, the Shiite group Hezbollah operates, whose armed formations are slightly inferior in terms of combat potential, and by the level of combat training they significantly exceed the country's armed forces, while not subordinating to the central government. Hezbollah's arsenal includes at least 1 tank T-72, a significant amount of T-55, BMP-1, and M-113 BTR (some of them were equipped with Soviet ZPU-2 and ZU-23-2, resulting in an improvised ZSU) , MTLB, SAU 2С1, numerous ATGMs of various types (from "Baby" to "Tou", "Metis" and "Kornet"), including on automobile chassis, anti-aircraft guns (except for the same ZU-23-2) KS- 1 and KS-19, as well as ZSU-57-2, Iranian tactical missiles "Fateh-110" and anti-ship missiles C-802. And of course, a huge amount of "shooter". Armaments and equipment were partially obtained from Syria and Iran, partially captured from the Lebanese Armed Forces, the former Southern Lebanon Army and the Armed Forces of Israel.
The state system in the Lebanese Republic proclaimed in 1943 was based on the idea of ​​distributing government posts and representative positions between different faiths while maintaining the privileges of the Christian Maronite community and strengthening the position of the rich Sunni community. The head of state began to be elected from the Maronite, the prime minister from the Sunni, and the chairman of the parliament from the Shiite community. At that time, the share of Sunnis in Lebanon's population was about a quarter, Shiites - less than one-fifth. Now Shiites from 30 to 40 percent, Sunnis - about 30 percent, but the distribution of posts in power remained the same. Hezbollah expresses the interests of the Shiite community, which has been the most disadvantaged. In addition, the most important task of Hezbollah sets the fight against Israel. In this regard, the party has a special relationship with Iran. In Israel, as well as in the US and the EU, Hezbollah is considered a terrorist organization.
It is a "state within a state," a huge corporation whose assets belong to the entire party, not to individuals. She has her own special services, providing security in neighborhoods and settlements of the Shiite community, also has its own security council. The main shock military force is Islamic resistance, which is led by the Secretary General himself (the number of personnel can reach 10 thousands). The party owns the construction organization "Construction Jihad" ("Mu'assasat Jihad al-Bina"), which is engaged in construction, electrification and drinking water supply. The party has created organizations and foundations dealing with issues related to the families of martyrs who died in the war, with the disabled, the wounded, and others.
The most important components of the functioning of the party are hospitals and clinics that provide free medical care to their members and low-cost services to all categories of citizens, not only Shiites. In the absence of free state medicine in Lebanon, these hospitals and polyclinics are in great demand. In addition to specialized religious educational institutions, the party contains general education schools, technical schools and universities.
Hezbollah is the owner of Al-Manar television channel, 4 radio stations, 5 print media. Of course, Al-Manar played a special role in shaping Hezbollah's image, becoming the "official" of the party, demonstrating its achievements, in particular in the field of armed struggle against Israel. During the July war, 2006, which turned out to be very successful for Hezbollah and, accordingly, unsuccessful for the enemy, the TV channel did much to destroy the image of the IDF as a "formidable and invincible Goliath".
At first, Hezbollah remained neutral with respect to the civil war in Syria, but then (apparently, on orders from Tehran) began to fight on the side of government forces. Well-trained and motivated Hezbollah fighters have achieved significant success in the fight against Sunni radicals (banned in Russia by Al-Qaeda and Al-Nusra, Islamic State, Islamic Front, Ahrar al-Sham) but the losses were very significant - up to two thousand killed.
The activity of Hezbollah in Syria causes extreme discontent of Israel, whose air force regularly attacks its positions on Syrian and Lebanese territory. But the group does not intend to cease its activities, and Damascus and Tehran are not going to refuse its help. Moscow does not consider Hezbollah a terrorist organization, especially since it has now turned out to be our direct military ally. Russia, of course, does not support Hezbollah's anti-Israeli activities in any form, but does not consider it to be a reason for a break. This is understandable: Hezbollah's terrorism is punctual in nature, it is directed only against Israel, while the whole world is the goal of Sunni terrorism. For this reason, Hezbollah is a much smaller of two evils. And if she is very actively and successfully fighting a big evil, then it is at least strange to stigmatize her. Moreover, Israel will somehow deal with this threat.