Thai army is armed with Chinese
tanks
. According to the portal
armyrecognition.com
, China sent the first batch of 28 ordered VT4 machines, also known as MBT-3000, to Thailand.
The intention to purchase a batch of tanks of the Ministry of Defense of Thailand announced in February last year. Initially, the military department planned to purchase Oplot T-84 tanks (1 contract from September 2011 of the year), but later decided to look for other suppliers. In total, for the needs of the ground forces of Thailand it was planned to purchase 50 tanks for up to $ 255 million.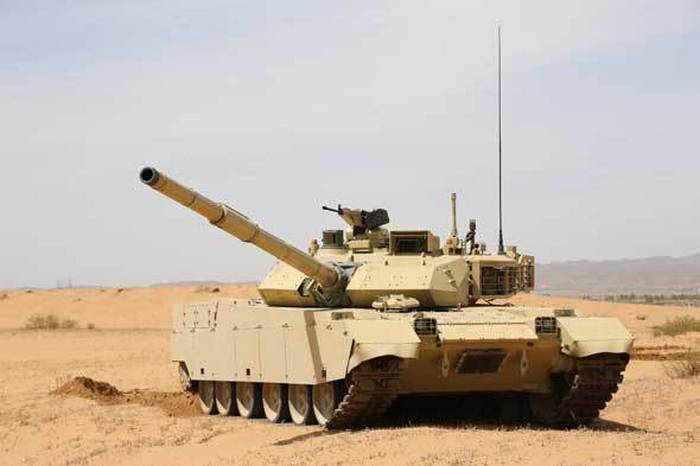 Last May, the Thai Ministry of Defense officially announced the purchase of VT4 tanks manufactured by Norinco, a Chinese corporation. Then it was reported that the military department signed a contract worth $ 147 million - for this amount the customer must receive 28 new tanks. Today it became known that China sent the first batch of cars that will arrive in Thailand during the period from 8 to October 15. VT4 will be replaced by the American M41 Walker Bulldog, which has been in service with the Thai army for about half a century. If Chinese machines meet customer requirements, the volume of purchases can be increased, transfers
"Warspot"
.
VT4 (MBT-3000) - the newest Chinese tank, the development of which ended in the year 2012. The main armament is an 125-mm smooth-bore gun with an automatic loader on the 22 shot. In addition, the machine can be armed with guided missiles launched from a cannon at a distance of 5 km. A remote-controlled machine gun of the 12,7 caliber is installed on the roof of the turret. The tank is equipped with a combination protivosnaryadnoy and reactive protection systems. The power plant is a diesel engine power 1300 l. with. A tank weighing 52 t is capable of speeding up to 70 km / h on the highway, the power reserve is 500 km. The length of the machine (with a gun) is 10,1 m, width - 3,5 m, height - 2,4 m.