President of Ukraine Petro Poroshenko will introduce two bills on Donbass to the Verkhovna Rada on Wednesday, including freezing the law on the special status of the region for a year, the Ukrainian Pravda online edition reported citing its sources in the administration of the head of state.
According to the Minsk agreements, Kiev is committed to providing a special status to certain districts of Donetsk and Lugansk regions. The relevant law was passed in the 2014 year, but it was never applied. The law states that certain areas of Donbass not controlled by Kiev will be given special status only after holding local elections under the laws of Ukraine and under the supervision of international observers. However, the elections did not take place, and the special status for the self-proclaimed DNR and LC remained on paper. The law was passed for a period of three years, its action will expire soon.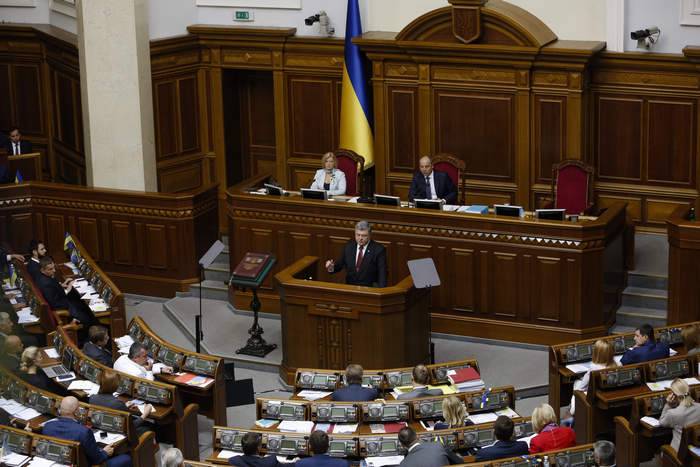 There will be two bills. One about the reintegration of Donbass. The second is about freezing for a year the law on the features of local government in the Donbass
- quotes the publication of the interlocutor. According to him, the adoption of the law on reintegration and at the same time the extension of the law on the special order of local self-government in the Donbass "will allow further diplomatic negotiations."
Ukrainian Pravda "also appealed to the First Vice-Speaker of the Rada Irina Gerashchenko with a request to confirm or deny this information, but she refrained from commenting and did not give a direct answer.
The development of a draft law on the reintegration of Donbass is the responsibility of the presidential administration of Ukraine. Earlier, the presidential representative in the Rada Irina Lutsenko said that Russia in the bill would be called the "aggressor country." The head of the international committee of the Federation Council, Konstantin Kosachev, noted that Kiev has no evidence of aggression from Russia, and when there is no evidence, "we have to make laws," reports
RIA News
.