In Algeria, the ceremony of entering into the military structure of the Navy of a new mine defense ship MCMV (mine countermeasure vessel) "El Casseh I" took place, reports
TSAMTO
.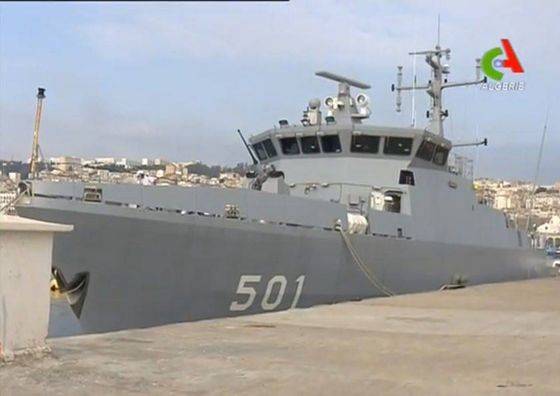 The Italian company Intermarine began negotiations with Algeria to build a ship in the second half of 2013. Approximately, then the contract was signed. The main contractor was Orizzonte Sistemi Navali, a joint venture of Fincantieri (51%) and Finmeccanica (49%). However, most of the ship building work was performed as a subcontractor by Intermarine.
The contract contained an option to supply the second ship.
El Casseh I was laid out in the first quarter of 2014 of the year, launched in April of 2016.
"The 50-meter ship with a monocoque body made of reinforced fiberglass is based on the project of the Katanpaa mine defense ship, which was supplied by the Finnish Navy. The ship's displacement is 700 T, the speed is 13 nodes, the crew is more than 30 people, "the article says.
Judging by the report of the Algerian television, the ship was delivered with a remote-controlled submersible for the disposal of the mine "Pluto Plus" of the company Gaymarine and towed GAS Klein Marine Systems.