Aviation
the regiment of the Western military district, deployed at the Halino airfield in the Kursk region, was replenished with two super-maneuverable Su-30SM fighters, reports
bmpd
with reference to the press service of the ZVO.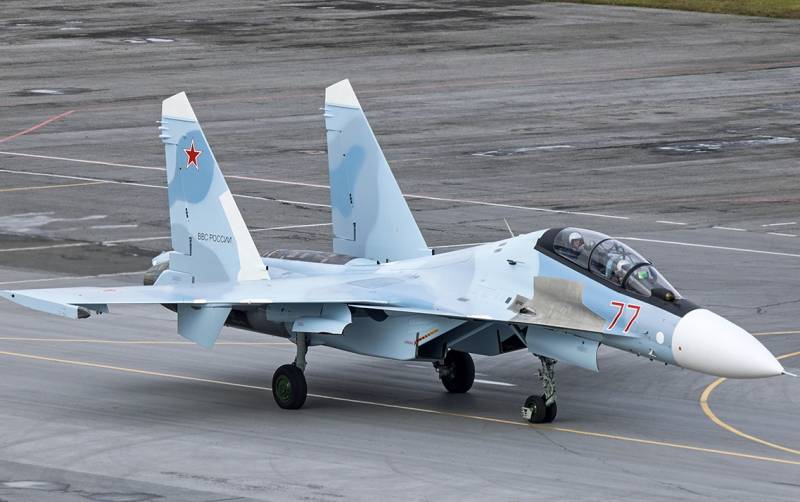 One of two new Su-30CM fighters built by the Irkutsk Aviation Plant of PJSC "Irkut Corporation" during a stopover in Tolmachevo (Novosibirsk) during the flight from Irkutsk to Khalino airfield.
During the planned rearmament of the regiment, the X-NUMX + fighters of the Su-4CM generation by the end of the year will be formed by the squadron.
It is reported that "the first flight crew has already received the practice of combat use on new machines during the flight tactical exercises with combat launches at the Ashuluk training ground in the Astarakhan region and during the active part of the joint strategic exercise West-2017".
Bmpd comment: "Thus, we are talking about the entry into the 14 Guards Fighter Aviation Regiment of two regular Su-30СМ Su-29СМ fighters built by the Irkutsk Aviation Plant (IAP) of the Irkut Corporation. Previously, the regiment received six fighters. Thereby the actual rearmament of the regiment was begun from the MiG-30SMT fighters on the Su-XNUMXCM currently in service. "
To date, the Russian Aerospace Forces under the signed contracts received 74 fighter Su-30CM, and Naval Aviation - 20.