Serbian authorities have responded to the statements of the European Commission regarding the independence referendum held in Catalonia. Recall that the European Commission recognized the Catalan referendum as legitimate, while adding that it stands for the territorial unity of Spain. In Brussels, they appealed to official Madrid and the Catalan authorities to resolve such issues at the negotiating table, and not at the level of tough confrontation.
The Serbian government noted that after such statements from Brussels, the European Union, by definition, should decide to withdraw recognition of Kosovo's independence. Serbian Prime Minister Ana Brnabic said that the government, together with the country's president, Alexander Vucic, will send a letter to the European Commission regarding the EC position regarding the comparison of Catalonia and Kosovo.
Meanwhile, Serbian Foreign Minister Ivica Dacic noted that, calling the actions of Catalonia unilateral, the European Commission actually recognizes the illegality of attempts to secession of Kosovo from Serbia. According to Dacic, the EC, apparently, forgets that the EU recognized the recognition of Kosovo's independence without a plebiscite on this territory.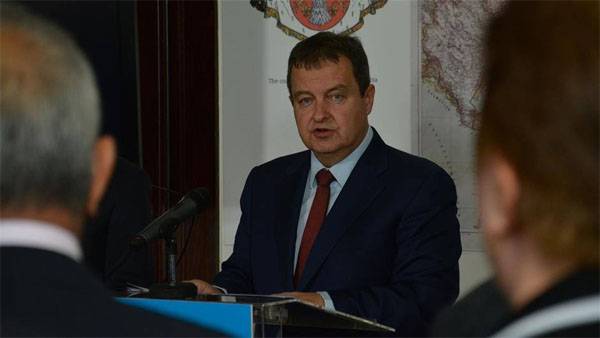 Dacic:
When we say, what about the situation with Catalonia and Kosovo, we are answered: Catalonia is part of Spain, which in turn is a member of the European Union. And how to understand this? What does it mean? If a country is not a member of the European Union, can it be split into parts?
And this is the statement of Anna Brnabic:
Let's say this: if there is no sovereignty of Catalonia, then there is no sovereignty of Kosovo.
As can be seen, the official Belgrade is trying to point out to the European Union double standards, in which the EU got itself confused. However, the EU will clearly continue to ignore the claims of Serbia, guided solely by the interests of those who are now the masters of Europe.